Strikingly fresh colours
A burst of freshness for light legs - every day, 365 days a year. The Ofa 365 wellness knee-high stockings are now available in an eye-catching Fashion Edition: dark red and petrol blue. Thanks to the shaping effect, Ofa 365 ensures light legs all day long.
The advantages of Ofa 365:
shaping effect for light legs, all day long
smart variations to suit your life situation
very comfortable because of soft waistband and comfort toes
easy sizing because of the shoe size system
The Sizes

The colours
Dark red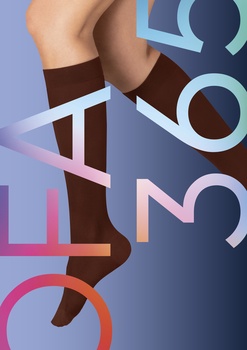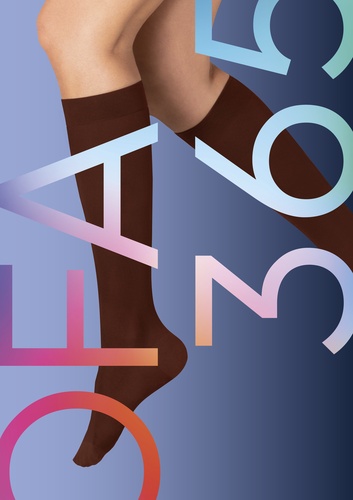 Petrol blue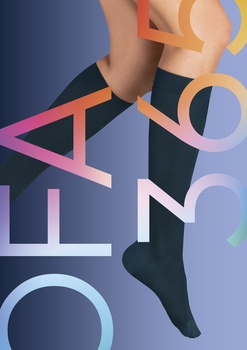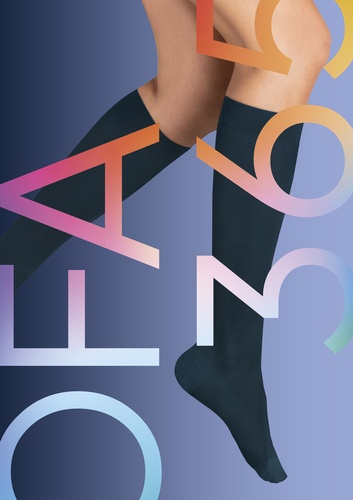 Dark red

Petrol blue
The all-rounder
Ofa 365 with cotton is available in a classic knee-high design. The chained lace and the soft top cuff ensure exceptional comfort every time.
The circular knitted material of Ofa 365 with cotton is opaque and creates a revitalizing effect. The high cotton content makes them comfortable to wear.
The sizes

The colours
Available in 6 different colours, Ofa 365 with cotton can be combined with any type of clothing.
White

Beige

Jeans

Marine

Anthracite

Black
Skincare built in
People who suffer from venous disorders often report having particularly dry skin. Insufficient blood circulation and a lack of nutrients result in an increased need for moisturisation. For this reason, the wellness Ofa 365 stockings have been developed with moisturizing aloe vera. Skincare is built in!
With the help of nanotechnology, the precious aloe vera extracts are embedded into the fibres during yarn production and are released directly onto the skin in a controlled manner as soon as the stocking comes into contact with it.
An additional bonus is that the soothing effect lasts within the stocking for more than 100 washing cycles!
The sizes

The colours
Ofa 365 with aloe vera is available in 3 different colours.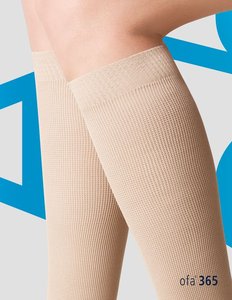 Perfect for summer
Summer heat can have a negative effect on circulation. For this reason, our veins need even stronger support than on days with lower temperatures.
This is why Ofa 365 knee-highs have been developed with particularly fine and light microfiber. Its breathable properties and rapid moisture transport ensure your legs stay fresh during hot periods.
The sizes

The colours
Ofa 365 with microfiber is available in 3 different colours.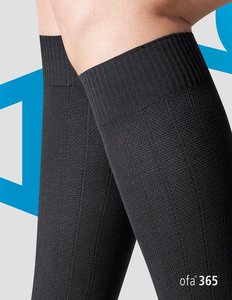 From revitalisation to therapy
Find the right product now!
Revitalisation

Ofa 365
Revitalising stockings for everyday use

Ofa 365 are revitalising stockings that are designed for everyday use. They provide more energy and ensure your legs remain healthy. Sizes are determined by shoe size and there are also standard sizes.

Prevention

Gilofa
Compression and travel stockings

Gilofa products promote blood circulation and offer an optimal fit due to how the sizes are determined by individual leg measurements.

Therapy

Memory
Elegant medical compression

Memory compression stockings were developed for today's fashion-conscious woman. Slightly transparent and with a delicate shine, they are used for venous disorders. Memory combines medical effectiveness with fashionable elegance.

Therapy

Lastofa
Universal medical compression

Lastofa is an all-rounder. It is a modern stocking suitable for everyday use and guarantees a secure fit. Lastofa offers the highest medical effectiveness and is suitable for both men and women.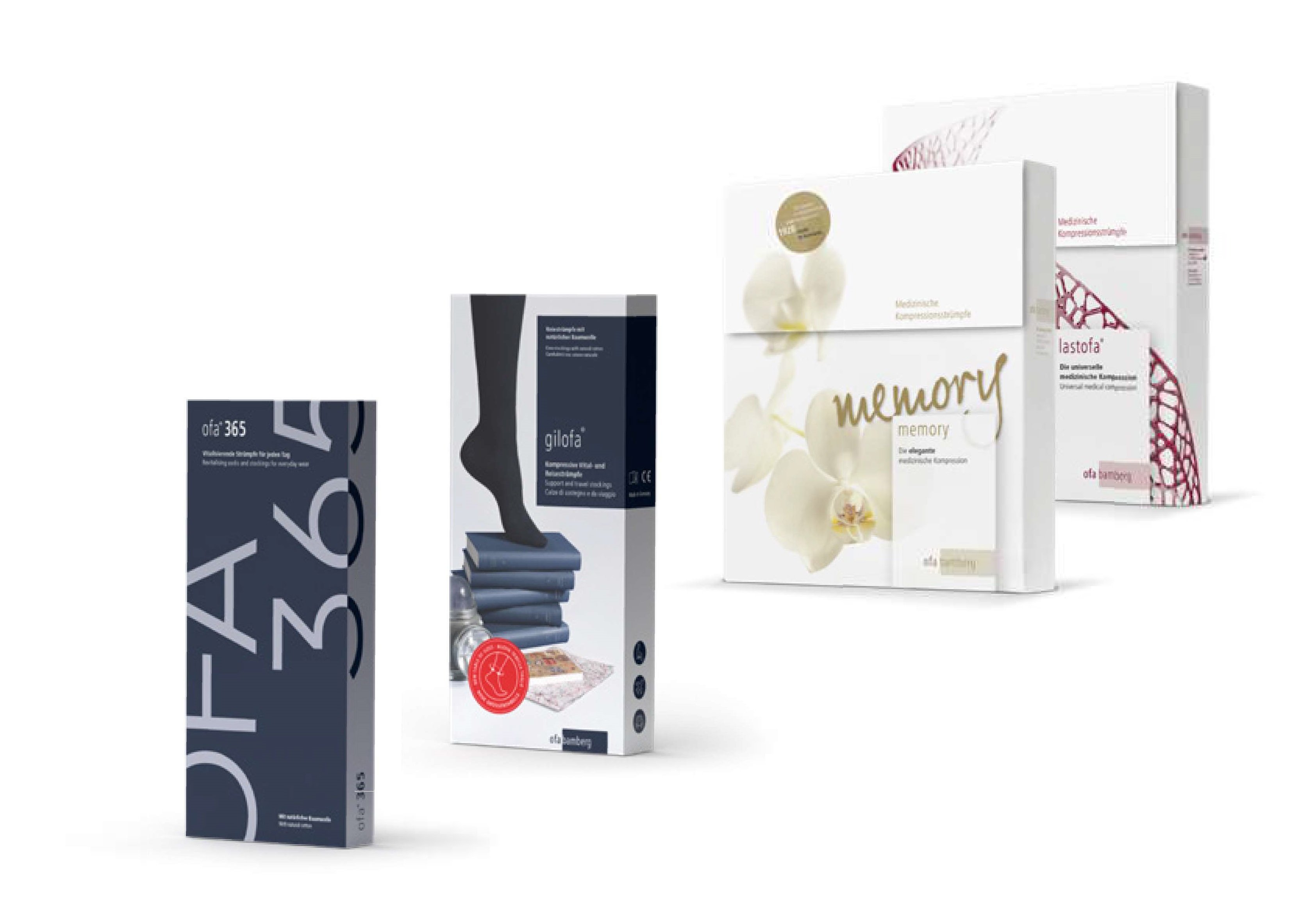 The right care for a long product life
The product is suitable for immediate use. Our recommendation is to wash the items before the first use. Afterwards, wash daily by hand or by using a gentle cycle in your washing machine with the stockings turned inside-out.
Ensure regular foot care and proper footwear.
Wash the stockings separately, preferably in a laundry net, as bright colours can bleed out during the first few wash cycles.
Wash the stockings separately with mild detergent and without softeners (e.g. Ofa Clean special detergent ) at a maximum temperature of 30° C and rinse thoroughly.
The stockings can be spun gently but please do not wring them out after washing them.
Air-dry your compression stockings or wash them using a gentle cycle in your washing machine but do not place them on radiators or in direct sunlight and do not iron them.
To maintain the functionality of the stockings, please do not use chemical detergents, bleach, benzine, or fabric softener.
Support stockings are largely insensitive to fats and oils, but should not come into contact with ointments.
Store the stockings dry and protected from sun and heat, and keep them in their original packaging if possible.