Lastofa
Universal medical compression
The soft, fine but opaque fabric of Lastofa is perfectly suitable for all connective tissue and offers due to its high grade yarn and perfect fit extremely pleasant wearing comfort. Through carefully selected materials and the knitting technology used Lastofa is at the same time soft and resistant.
Lastofa cotton is because of its skin compatibility gratefully worn by patients with sensitive skin or by allergy sufferers. The compression yarn is constructed in such a way that only the yarn's cotton twisting is in direct contact with the skin.
Lastofa Forte is our flat-knitted, incomparable quality. It stands out especially due to its innovative material composition. The reason is that, besides the synthetic fibres essential for compression, Lastofa Forte consists to a large extent of the finest merino wool.
For vein diseases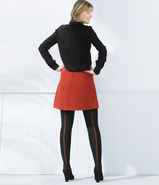 For oedema, burns and scars