From Thuringia to Bavaria
The roots of our company can be found in Thuringia, to be more precise, in Zeulenroda. It was there that Otto Fankhänel founded in 1928 what was at the time a family-run company by the name of Ofa. After the Second World War the founder looked around for a new home – and found it in Bavarian Bamberg. The company moved there in 1949.
The aim: A small production facility in the heart of the city. Over the years the product range grew and demand increased steadily. This then required a move within Bamberg. Since 1981 Ofa Bamberg's home has been the industrial area of Laubanger. From here countless products are sent daily to specialist dealers in Germany and throughout the rest of the world.
At the beginning of 2015 our company acquired the production facility of Esda GmbH, a textile company in Glauchau, Saxony. There we have a further 20,000 sqm of production space at our disposal. This clearly shows that we at Ofa Bamberg continue to focus fully on "Made in Germany". As a result of our presence in Saxony we are able to respond more quickly to changing market conditions.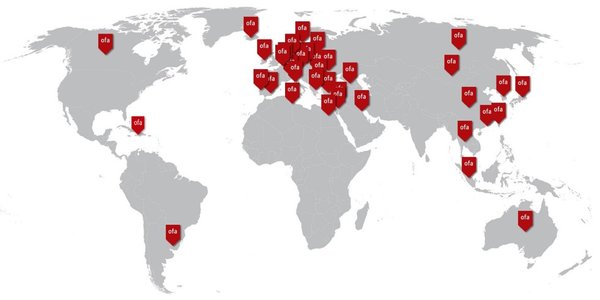 Our Subsidiaries and Partners outside Germany
Ofa Bamberg is as a company also very much in demand outside Germany. In 1994 Ofa Austria was founded. Based in beautiful Salzburg, the subsidiary is market leader in Austria.
Also, BELSANA is part of INDUS Holding AG as a branch of Ofa Bamberg GmbH. The main company must therefore act as a manufacturer. For synergistic effects a cooperation of Export business of Ofa Bamberg GmbH and BELSANA was decided. Sales and distribution within Germany as well as marketing issues – also in the other subsidiaries of Ofa Bamberg GmbH – are operated partly
autonomous and independent of each other.
Furthermore, Nea International has been a member of the Ofa family since 2015. The company, with its seat in Maastricht, Holland, develops and produces orthopaedic supports and orthoses with the brand names Push Braces and Push Sports Braces. The acquisition was the logical result of many years of cooperation between the two companies. Ofa Bamberg has been the sole and successful distributor of Push Braces and Push Sports Braces in Germany and Austria for more than 25 years. In addition, NEA sells its products in more than 30 countries world-wide.
Our products are used throughout the world. Our subsidiary in Salzburg is not the only contributor – also our numerous partners in other countries are significantly involved in creating Ofa Bamberg's success. We export our products to more than 40 countries world-wide.
Here you find a brief overview of some of our partners world-wide: