New colours available! 
The eight Lastofa colours take their names from aromatic herbs and spices. There are two skin-tone colours and six additional colours to choose from, providing a tasteful variety. You can even choose to combine them for an understated look or to spice up your outfit. The choices are wide enough for you to match them to your personal taste.
The selection is modern and fit for everyday life. With Lastofa, your legs get the attention they deserve at every occasion - this applied to both women and men!
You can choose from the following colours: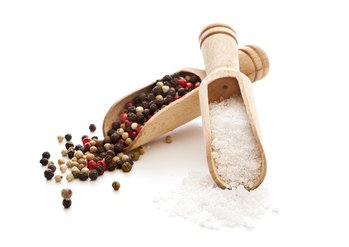 salt

sesame

cinnamon

nutmeg

cornflower

juniper

chia

pepper
Perfect fit and highly effective compression
According to recent research findings, humans are becoming bigger and stronger. Size charts should be able to adapt to this. That is why Lastofa has now implemented a sizing system which is based on real body measurements informed by reliable statistics.
Lastofa is available as a range in six sizes from I to VI. Thanks to the variety of features, Lastofa fulfils numerous individual requirements – even as part of their series range!
New Lastofa and Memory now use identical sizes.
From the range to customisation
If your measurements deviate from the sizing system, bespoke products are the ideal solution for you. Individually customised to meet your requirements, these compression stockings have an optimal fit and make for comfortable wearing.
Comfort for everyone
6 updated sizes from the range
2 foot lengths for both open and closed toe options
further designs for AG stockings possible
2 body section widths
available in compression classes 1 and 2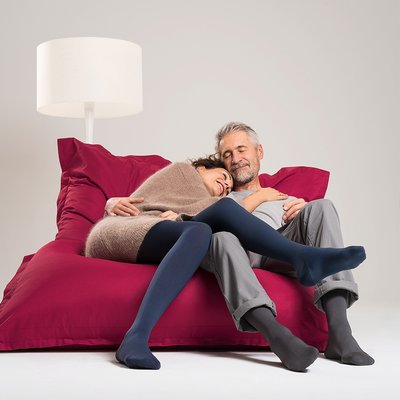 The all-rounder
Whether it's a simple knee stocking, thigh stocking, or maternity tights during pregnancy, Lastofa offers many possibilities. Thanks to its sizing system and the various different features, you can always find the right stocking.
Knee stocking (AD): The extra-soft cuff of this classic compression stocking in knee-length ensures a comfortable feel at the hollow of the knee.
Thigh stocking (AG): Thigh compression stockings usually include bands with adhesive qualities to ensure a perfect fit and to prevent the stockings from sliding down.
Tights (AT): The special plus/minus body section of the tights for women guarantees an ideal fit. With a cut which is longer at the back and shorter at the front, the gusset adapts to the anatomy of the body.
Lastofa designs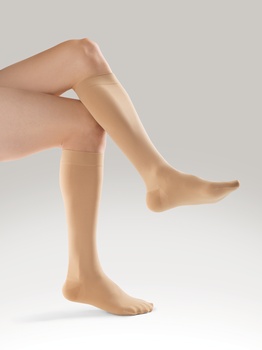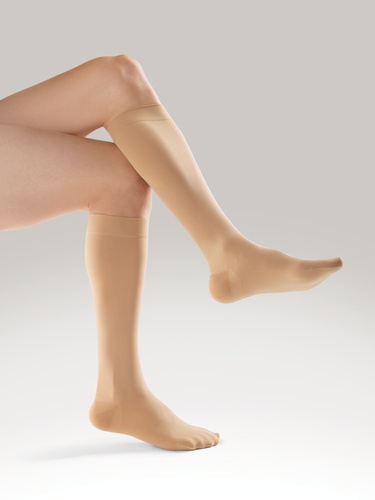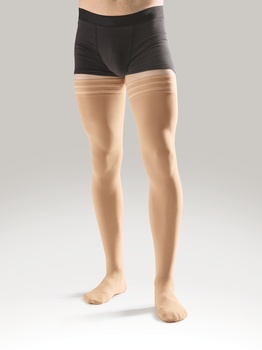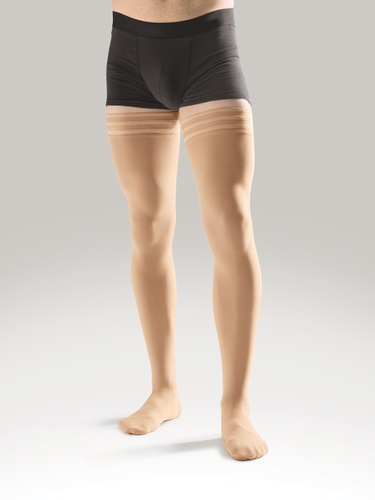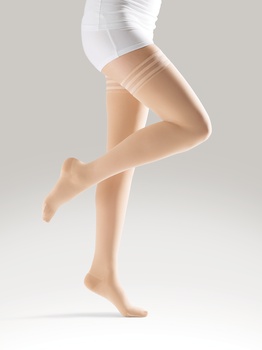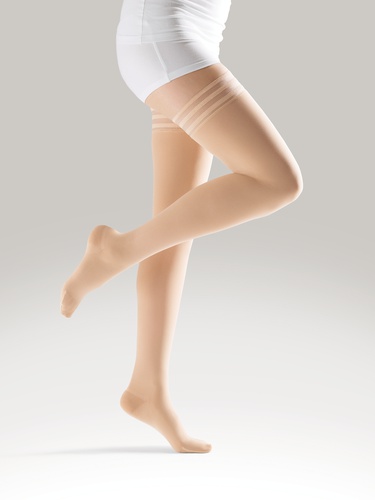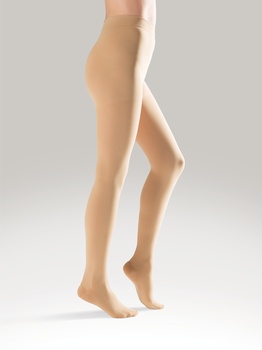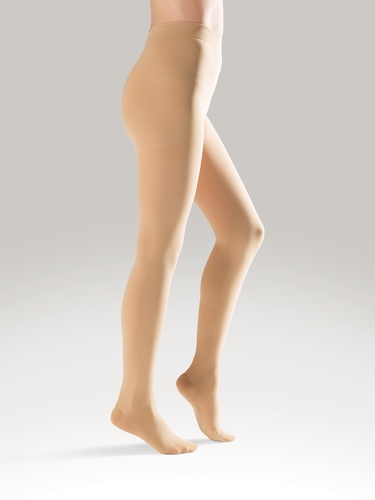 Further designs and features
Lastofa compression stockings are available in the usual designs for a broad range of sizes. This allows for a large number of patients to be supplied quickly and effectively.

In addition to this, numerous further features and designs are available:
Thigh stocking with hip fastening (AG/T)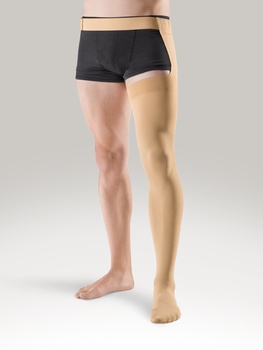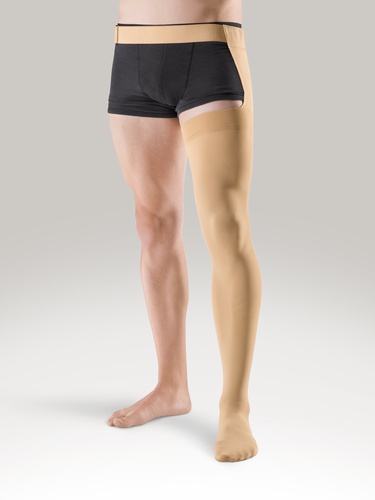 Maternity tights (AT/U)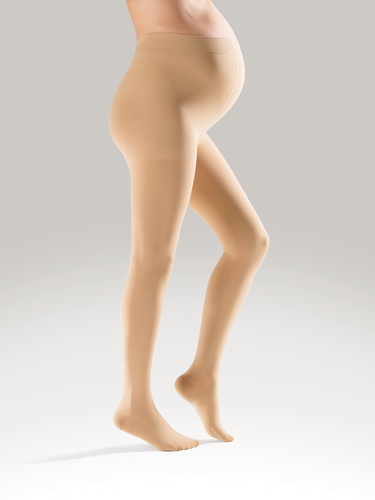 Tights for men (AT/H)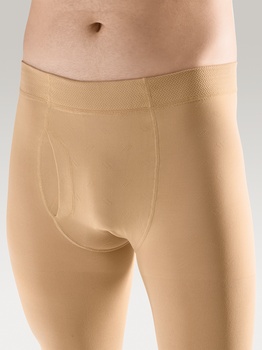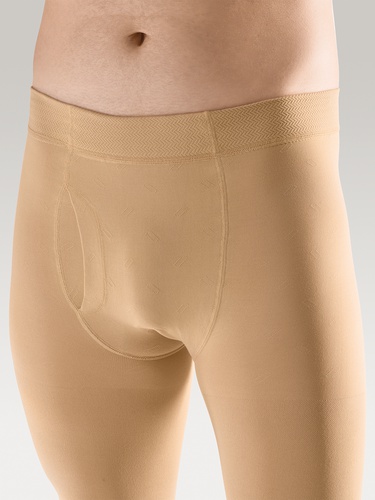 One-legged tights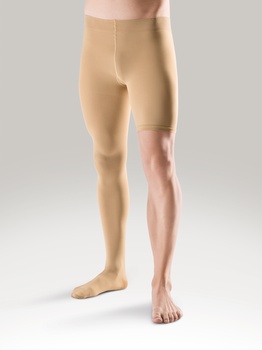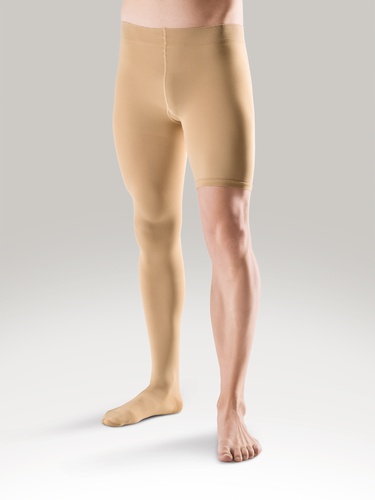 Tights with short body section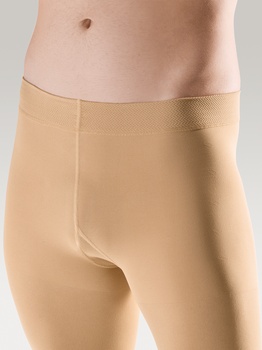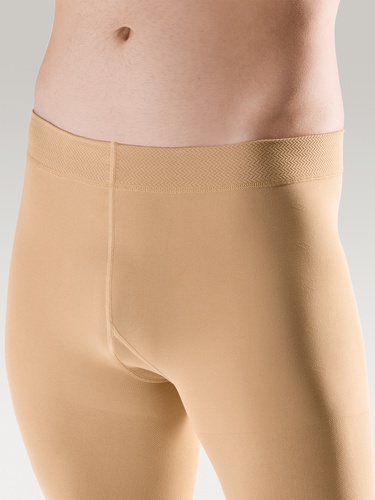 Sewn-in openings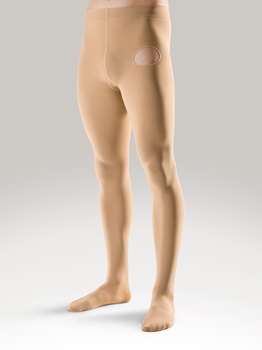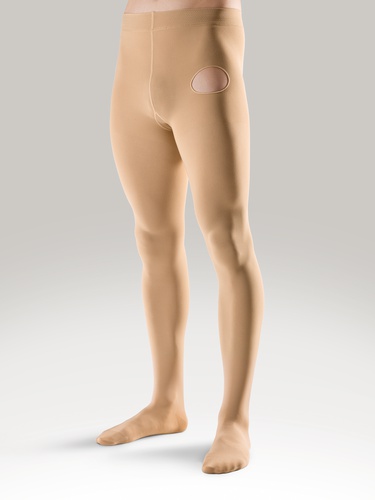 Smart details
The Lastofa quality also makes a lasting impression thanks to its selection of particularly comfortable knitted toe sections. Lastofa stockings can be worn with both open and closed-toe sections.
While the open toe section has a snug fit without folding back, the closed version offers optimal mobility and protects the toes at the same time thanks to the soft toe section.
The open-toe version is now also available in two foot lengths.
Closed toe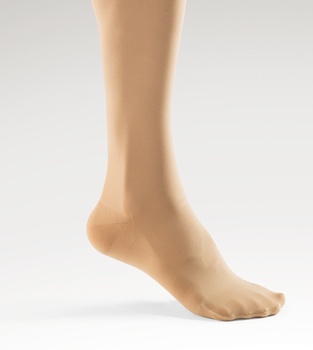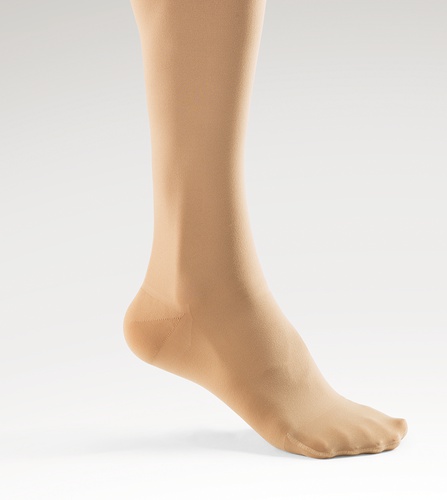 Open toe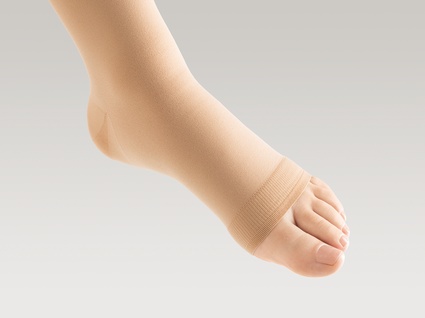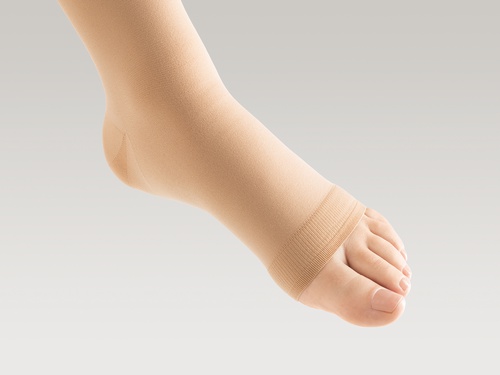 Short open toe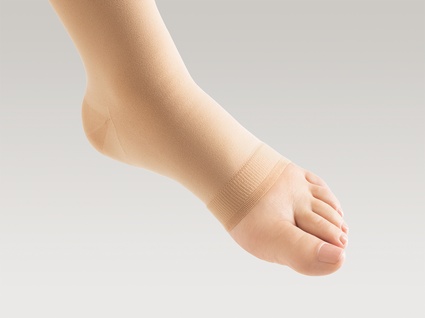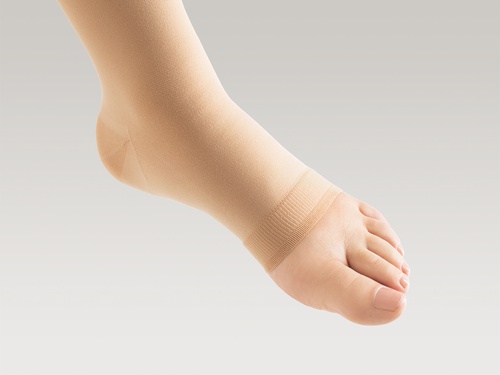 One for all – Lastofa offers a variety of details
We integrate modern technologies and our wealth of experience in creating Lastofa products. The proven classic has now been developed further. High comfort and medical efficacy are our highest priority, which is why Lastofa is equipped with many highlights:
Lastofa comfort zones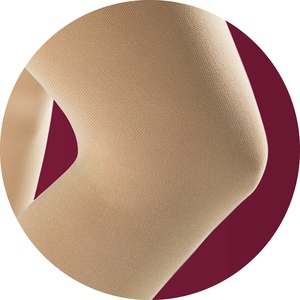 When sitting down for long periods such as while at a desk, for example, folds at the hollow of the knee or around the foot can become annoying and push into the skin. The new Lastofa comfort zones are particularly comfortable to prevent this and ensure a perfect fit.
Additional padding at the ball and the heel of the foot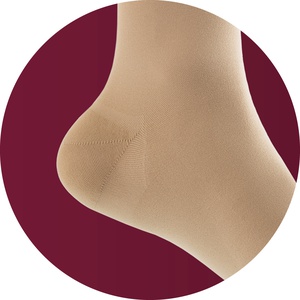 The sensitive areas at the ball and the heel of the foot in particular experience stress throughout daily life. Special padding at the foot optimises durability.
Two foot lengths – even for the open-toe versions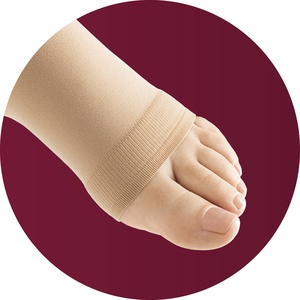 Lastofa offers two different foot lengths and a comfortable comfort cuff for an optimal fit of the open toe section, making it suitable for all, whether they have a shorter or longer foot.
Optimised body section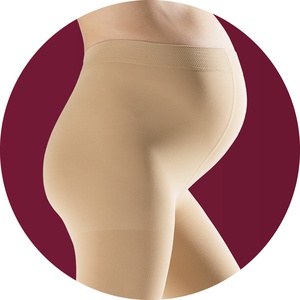 The standard body section is not only visually more appealing, but it also offers a better fit and more dimensional stability. 
Pregnant women or patients with a larger abdominal girth prefer the extra-wide body section.
Stronger bands for stronger support
Whether it's a casual look or an elegant lace design, the Lastofa bands give the stocking a perfect finish to suit all tastes and styles. At the same time, some bands are more suitable for soft connective tissue while others provide a secure grip for firmer connective tissue: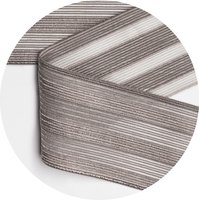 Silicone grip top Casual
A new addition for women and men in a timeless design. The horizontal padding and the silicone applied in stripes ensure a firm and secure grip. Convenient gaps ensure optimal breathability of the skin.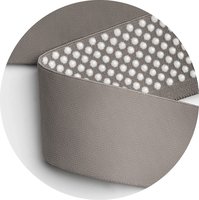 Silicone grip top
This classic is perfectly suited for people with sensitive skin. The flat nubs are hardly noticeable and allow the skin to breathe. The soft material ensures a comfortable grip.
This is also available as the 'Strong' version with particularly strong lateral stability. It is particularly suitable for people with very soft connective tissue and large thigh circumferences.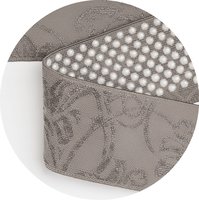 Silicone grip top Fleur
A adhesive tape in a stylish jacquard look with ideal air permeability, which is also ideal for sensitive skin. The silicone has been applied selectively. The soft material ensures a comfortable grip at the same time.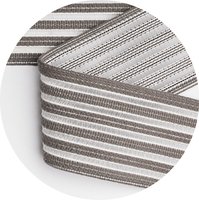 Rubber grip top
Particularly well suited for people who care the most about a strong grip or who have an intolerance to silicone. It does not roll down thanks to special horizontal padding.
Compression – the basis of the treatment
Compression therapy is the foundation of every vein treatment and the basis of preventive measures. Early support means relief, recovery, and care.
In cases of venous diseases, compression therapy is the core of every treatment. Once a vein is enlarged (varicose vein), it will not recede and requires ongoing support through compression. Even after atrophy or venous surgery, compression stockings are used to ensure successful treatment.
Pressure decreases from the bottom upwards
Compression stockings apply accurately defined mechanical pressure on the enlarged venous vessels and the leg from the outside. They squeeze the veins together, thereby decreasing the veins' diameter, and close the venous valves again. The blood in the veins can now flow in an improved and faster manner.
Medical compression stockings guarantee correct amounts of pressure as well as medically dosed drops in pressure. Around the ankle, the pressure of the compression stocking is the highest and it decreases towards the top. This accelerates the venous blood return to the heart and the blood circulation in the leg noticeably improves.
Find out more about the medical background in the knowledge section titled 'Our body'.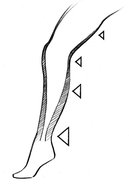 Getting dressed effortlessly
Ofa Bamberg has developed many practical helpers to avoid the act of putting on compression stockings and tights becoming a feat of strength in the morning! Instead, they allow you to glide into your stocking quickly and easily so that you can start the day with ease.
We care about your comfort!
The right care for compression stockings
The product is suitable for immediate use. We recommend that you wash it before wearing it for the first time. After this, wash it daily, either by hand or using a gentle cycle on your washing machine. Ensure that the item is placed in the washing machine inside out.
Wash the stockings separately with a mild detergent without softener (such as Ofa Clean special detergent) at a maximum temperature of 40°C and rinse them well.
The stockings can be spun gently, but please do not wring them out.
Air-dry your compression stockings or dry them using a gentle cycle of your tumble dryer, but do not place them on a radiator or in direct sunlight and please do not iron them.
To maintain the stockings' effectiveness, please do not use any chemical cleaning agents, bleach, petrol, or fabric softener.
Compression stockings are largely resistant to fats and oils but contact with any ointments should be avoided.
Stockings with silicone-coated bands should generally not come into contact with solvents, ointments, moisturising body wash, or body lotions. Their adhesive qualities can otherwise be permanently impaired.
Store the stockings in a dry place and protect them from direct sunlight and heat. If possible, store them in their original packaging.