Ofa Clean has been developed for the gentle washing of your compression and support stockings.
Regular washing ensures a high standard of hygiene and is also important to maintain the compression effect. The particularly gentle special detergent Ofa Clean contains no fabric softener and thus minimizes damage to the fibres. For fabric softener that may also be contained in mild detergents leads to the premature deterioration of the elastic yarn. Ofa Clean protects the knitted fabric and enlivens colours.
At a glance:
highly concentrated
washes gently
maintains fibres
enlivens colours
is gentle to the skin
with deodorant properties
Application:
When washing add one tea spoonful of detergent to one litre of lukewarm water, leave to soak and rinse. Moisten stains or soiled areas with slightly diluted concentrate, rub a little, leave on for a short while and wash off in lukewarm water.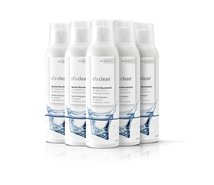 How to wash your compression stockings
We recommend you wash your compression stockings every day inside out. This is not only hygienic. Regular washing is also important to maintain the compression effect. The elastic material of compression stockings does not tolerate fabric softener. A mild detergent should therefore be used. But that may also contain fabric softener which need not be declared. The best detergent to use is Ofa Clean.
Memory and Lastofa compression stockings can be washed at 40°C by hand or machine-wash on delicates (40°C). All Gilofa stockings at 30°C by hand or machine-wash on delicates (30°C). In the machine this may be followed by a gentle spin cycle at a low speed.
When hand washed the stockings should be thoroughly rinsed and then laid out on a towel or air dried. It is also possible to dry the stockings at the lowest speed in a drier. Strong heat, including radiators and the iron, tends to wear out the material fast and should therefore be avoided.
Tips on how to care for your compression stockings
Special gloves from Ofa Bamberg provide a secure grip and protect the knitted fabric
It is best to put on your compression stockings the moment you get up in the morning while your legs are free from any swelling
Wear comfortable, loose clothing and flat, comfortable shoes
Walk as often as possible, also bare-footed
Treat yourself morning and night to an invigorating cool leg shower
Move your feet and legs when sitting or standing for longer periods of time