We see ourselves as a family in many ways: on the one hand we have many "family members" who live in a multi-generational house in a figurative sense, on the other hand there are actually families in our ranks in which several generations work "in the Ofa". Above all, the cohesion in our company is like in a family. All of these are reasons enough for us to speak of the One Ofa family!
What makes us strong
Our strength comes from our many individual family members. We regard Ofa Bamberg GmbH like a multigenerational house. Here, our different brands and business segments are gathered under one roof:  Ofa Bamberg as a brand that sells health care supplies and has its production facility in Bamberg and Glauchau, as well as BELSANA, our pharmacy brand. And we've even got a new member in our family that joined us in 2018: the brand Spring medical from Waldenbruch. Further family members are Ofa Austria, our branch in Salzburg, and our subsidiary Nea International in Maastricht.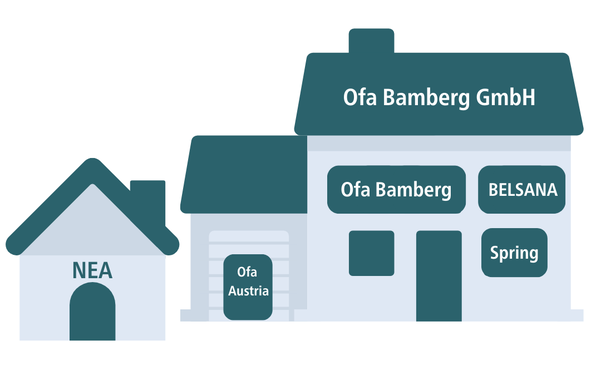 The entire Ofa family under one roof
We regard ourselves as a family in a multigenerational house that lives under one roof, but in separate flats. Our family has grown significantly over the last few years which is why we constantly remodel and optimise ourselves.
Let's have a closer look at this multigenerational house: on the top floor, you can find Ofa Bamberg GmbH. It employs more than 600 people. In the four flats below, the separate business segments of our family members Ofa Bamberg, BELSANA, Spring medical and Ofa Austria have their home. Finally, there is Nea International in a little bungalow adjacent to the multigenerational house. And as you would expect from a family, we spend a lot of time with each other, meet up, chat, discuss – and sometimes, we even have arguments and make up again afterwards. Things don't always run perfectly smoothly, but every one of us does their best to maintain a functioning family life.  
We didn't want our multigenerational house to go without a name, so we call it 'One Ofa' – it's a larger family, whose members are strong as individuals, but achieve their success as a union. Back in the day, we were all isolated, individual segments on the market – but that's in the past. Now, we have joint forces as One Ofa and grow as one family in order to provide the best possible products and services. 
Our house is full of life
We've already achieved a lot but haven't yet reached our goal. A lot of us work hand in hand, but we still have a fair bit of refurbishment ahead of us and continuously develop ourselves further. After all, a house that is 90 years old needs to be modernised and renewed every now and again. That's why we fill our house with life through new projects and ideas. Everyone lends a hand on these building sites – it's part of our philosophy. All those that want to get their hands dirty to help will get the right tools to join the efforts. Our CEO, Rainer Kliewe, is always out and about in our multigenerational house and checks in with the different departments to see how things are going. His approachable and honest attitude rubs off on all departments and creates a strong union.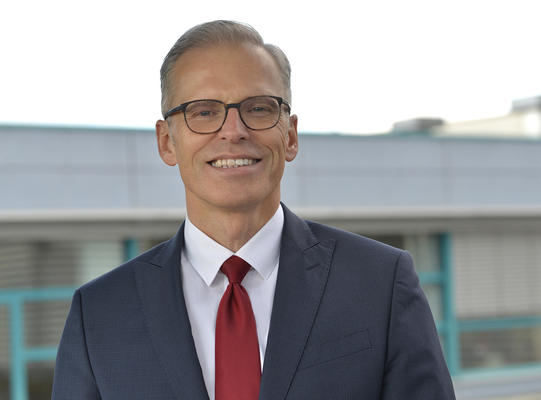 Our international partners
Our products are used across the entire world. This not only thanks to our branch in Salzburg and our subsidiary NEA International, but also our various partners abroad who are major contributors to Ofa Bamberg's success. We export our products to more than 40 countries worldwide.