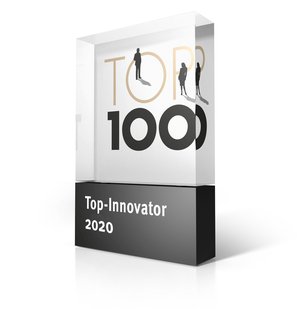 From tradition to innovation
Good ideas that benefit your health: we continuously work on innovations and the development of new products that actually deliver added value. Not only our satisfied customers bear testimony to this, but also a number of renowned awards that we have received for our product design.
Our company has been successfully developing, producing and selling medical compression stockings, prophylactic compression stockings, support bandages and orthoses for over 90 years now. Even back when company founder Otto Fankhänel crafted the first back supports by hand, our recipe for success was our manufacturing expertise along with innovation. As trailblazers in the usage of modern materials like microfibre, we marked the end of the traditional 'elastic stocking'. And that's not the end of our unique Ofa innovations: we also created a medical compression stocking that has a stylish adhesive tape with lace details.
Our design team constantly works hard to set new standards in terms of efficacy, comfort and design. We even received the innovation award 'Top 100' for our innovation management in 2020.
A special debut: the world's first sustainable compression stocking
Our sustainable compression stocking shows its eco-friendliness in both the production and dyeing processes. It goes without saying that we also save natural resources and limit our CO2 emissions in the process.
Natural fibres
For the yarn, we use castor oil. The plant Ricinus communis is an undemanding plant that grows in barren areas where most other plants cannot survive. It's originally from northeast Africa but can now also be cultivated in tropical climates.
Natural dyes
Our sustainable compression stocking is made with 100% natural dye. The exterior layers of walnut shells give off their colour during the dyeing process by which the stocking receives its beautiful tone. By the way: the walnut tree doesn't just call Germany its home. You can also find this green leafy tree in the Balkan countries, right across Central Asia and even on the borders of China.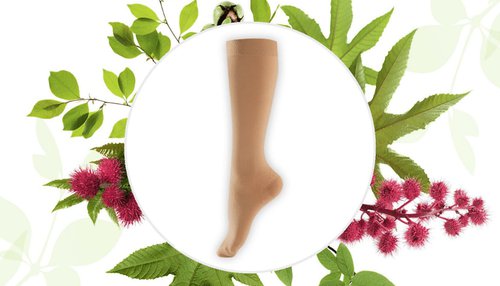 Compression meets skincare
The gentle power of nature in the fight against dry skin
Those who suffer from problems with their veins, often also experience dry skin. Insufficient blood circulation, nutrient supply deficiency and the tight fit of compression stockings, which is necessary for medical efficacy, require a high amount of moisture.
We've got the solution:
Our compression and support stockings with aloe vera combine an elegant look with optimal skin care. The ingredient blend of aloe vera extracts and vitamin E is integrated into every stocking and provides the skin with natural moisture during the wearing of the stocking.
For these products, we source aloe vera that has been grown organically. With its 200 individual substances, it nourishes the skin, provides it with moisture and has a calming effect on the skin. Vitamin E further supports and increases these effects.
How the compression with integrated skincare works:
The combination of ingredients is worked directly into the yarn via a complex technique thanks to which the skin is constantly provided with moisture. Skin irritation will ease, and possible dehydration becomes less likely.
This blend of ingredients can be found in so-called microcapsules. They have countless tiny openings from which they release the nourishing substances upon contact with the skin. This way, the skin is provided with natural moisture over and over again.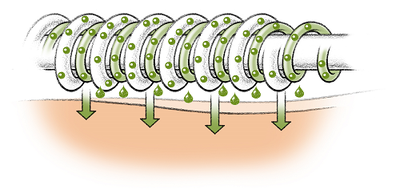 Flat-knit compression stockings with merino wool
Temperature control and supreme softness  
Our innovative flat-knit products contain merino wool – a natural high-performance fibre. It cools down during summer and it provides comfortable warmth in winter while ensuring breathability thanks to its natural air pockets.  
Merino fibres are very robust. Due to their particularly fine structure, they also feel supremely soft.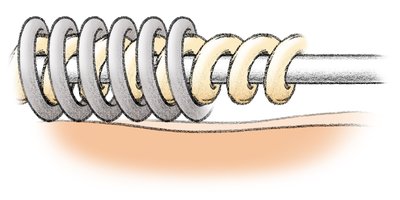 Intelligent support bandages with that little extra: Dynamics Plus
Multifunctional Plus pads
Thanks to their special shape, the carefully thought-out Plus pads massage and relieve precisely those areas where it's needed most. The knobbly structure allows for further stimulation and an improved efficacy.
Arthroflex® comfort zones
The sensitive bend of the joint is protected by comfort zones made of patented Arthroflex®. The special knitted fabric consists of two extremely thin layers which shift against one another during movements and thereby minimise the formation of wrinkles.
Award-winning design
Design Awards for excellent product design stand for the highest quality. Products from the Dynamics Plus range have already received five international, renowned awards.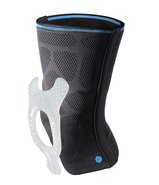 Innovative orthosis solution: Push
Stabilisation using the taping principle
The Push ortho ankle orthosis Aequi takes the taping principle and turns it into a modern orthosis. A reinforcement in the middle together with a fixed tape stabilises the ankle joint, while elastic straps ensure effective compression. Thanks to its slim design, this orthosis fits into every lace-up shoe.
Functional concepts
The Push ortho thumbs brace CMC boasts a very special use of materials. It surrounds the saddle joint that is affected by Rhizarthrosis and it stabilises the thumb in a functional position. Adjacent joints and the palm of the hand remain free which allows for the user to grip with their hand effortlessly.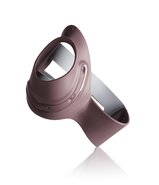 There is one thing that allows for the creation of extraordinary products: extraordinary teamwork. You simply can't do without great employees. Their expertise and skill are the basis of all innovations and product development. It's the only way to guarantee outstanding quality, high durability and supreme comfort in all products.
That's why our employees receive intense as well as personalised training – and they also benefit from extensive advanced training opportunities. We grow as a company thanks to our employees' know-how and will continue to delight with innovative solutions in the future.