A natural dye
Lastofa Verde's dye is 100% natural. The exterior walnut shells have strong dyeing properties. By the way: The walnut doesn't just feel at home in Central Europe – this green deciduous tree can also be found in the Balkan countries, all across Central Asia and even on borders of China.
 
Walnut shell – the colour of wonders
Nature provides us with plenty of materials that can be used for dyeing textiles – one of these is the walnut tree. The exterior shells of the fruit have strong dyeing properties. This allows us not to use any chemical additives which protects our environment. After the nuts have been harvested, the exterior walnut shells don't have any further purpose and are therefore an ideal, environmentally friendly source for dying clothes sustainably.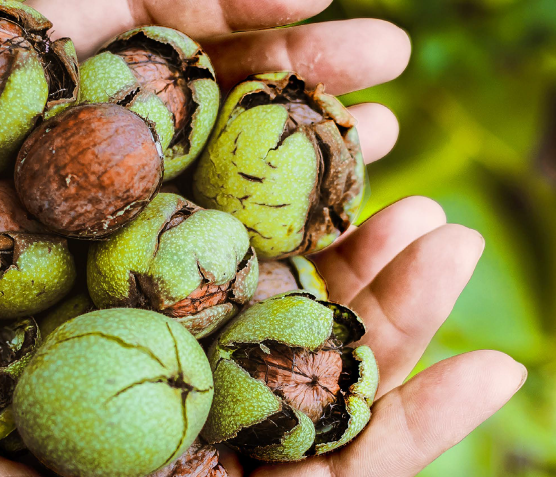 Lastofa Verde is available in a sustainable colour
Walnut
Natural fibres
Lastofa Verde is the first stocking made of castor oil. The Ricinus communis plant is an undemanding plant which grows in barren regions where no other plants can usually be cultivated. Originally from northeast Africa, it is now also native to tropical areas.
Ricinus communis – a magical plant
The plant prefers a sunny and warm spot with little wind. It only requires little water and can tolerate longer droughts. This is a natural benefit which makes Ricinus a resilient, renewable resource. The oil obtained from the castor bean is used for medicine, cosmetics and now even in the textile industry. And what's more: the production of this fibre doesn't only save water – it also releases less CO₂ into the atmosphere.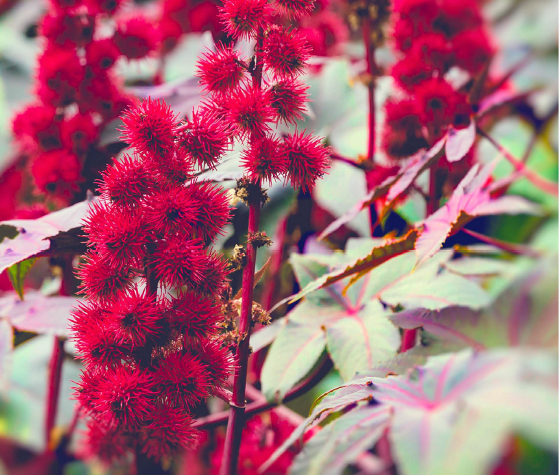 The size chart for Lastofa Verde
Lastofa Verde is available as a knee stocking in compression class 2. With its six different sizes, the size chart enables an optimal fit which is further enhanced by two different foot lengths for the closed-toe designs.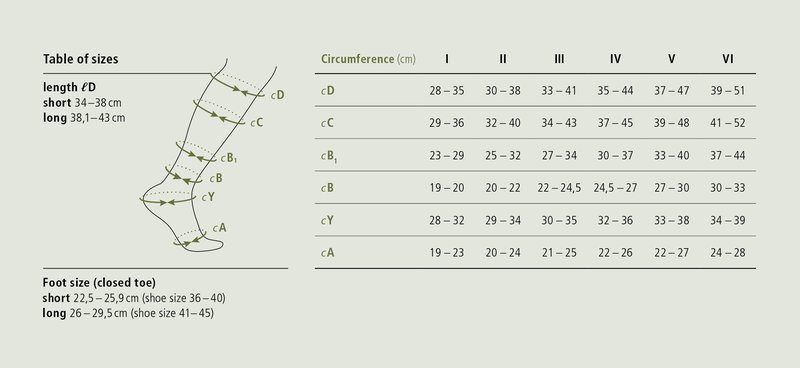 The fibre for the next generation
Lastofa Verde is the perfect choice for patients who want to do their bit to save resources and for those who'd like to take responsibility for the next generation. The sustainable compression stocking comes in an opaque, smooth design and has a discreet look.
All the information at a glance:
medical compression for vein disorders
opaque, smooth design
a modern, discreet look
easy to put on
soft and comfortable to wear
comfort zone for a comfortable fit
as a ready-to-wear stocking in compression class 2
as a knee stocking
available in the colour 'walnut'
closed toe option available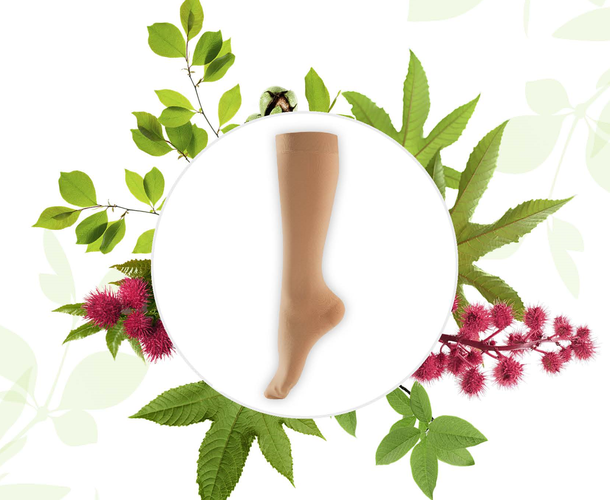 Compression – The Basis for Treatment
Compression treatment is the foundation of every kind of treatment for vein conditions and is also the basis for preventative measures. For healthy legs, this means early support in relief, recovery and care.
In the case of a vein disorder, a vein can expand and not return to normal. This is known as varicose veins and requires long term support through compression. Even after surgery for sclerosis or varicose veins, compression stockings are used to ensure the success of the treatment.
Pressure decreases from the bottom up
Compression stockings exert precisely defined mechanical and external pressure on the enlarged venous vessels and also on the leg. They compress the veins, therefore narrowing the vein diameter, allowing the venous valves to close up again. The blood in the veins can now flow better and faster once more.
Medical compression stockings guarantee correct levels of pressure ​​and a medically dispensed drop in pressure. The pressure of the compression stocking is at its strongest around the ankle and decreases as the stockings move upwards. This speeds up blood flow back to the heart and noticeably improves the blood circulation in the leg.
Learn more medical background information in the "Our Body" learning area.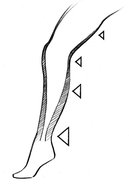 ---
You may also be interested in:
Effortless to Wear
Little everyday helpers do not turn wearing compression stockings and tights into purely a huge effort in the morning, but allow you to glide quickly and easily, both into the stockings and into the day. This is why we have developed many practical aids that make day-to-day life easier and simplify the handling of your compression stockings.
Your comfort is at the heart of what we do!
How to handle Compression Stockings correctly
This product is suitable for immediate use. However, we recommend that you wash them before their first use. From then on, they should be hand-washed or washed in the washing machine every day. Please note that if you are using a washing machine, we recommend turning the stockings inside out and using a delicates cycle.
Wash the stockings separately with mild detergent but without fabric softener (e.g. Ofa Clean Special Detergent) at a maximum of 40°C and rinse well.
The stockings can be carefully tumble dried, but please do not wring them out.
The compression stockings can be hung out to dry or can be dried in a gentle drying cycle, but do not hang them out to dry on a radiator, do not iron them, and ensure that they are kept out of direct sunlight.
In order to retain the stockings' efficacy, do not use chemical detergents, bleach, fabric softener or petroleum.
Compression stockings are resistant to fat and oil to the greatest extent possible, however they should never come into contact with salves or ointments.
Stockings with silicon-coated topbands should not come into contact with solvents, salves, ointments, moisturisers, or body lotions, as their grip and adhesion to the legs may be permanently affected as a result.
Store the stockings in a cool dry place, preferably in their original packaging.