Gorgeous colours
Memory Aloe Vera is available in ten different smart colours as well as four fashion colours which change every year.
Care meets colour
The Fashion colors are also available for our nourishing Memory Aloe Vera compression stockings.
Let yourself be inspired by fashionable colors and caring compression. Inspired by exotic and local berries, they ensure a fresh appearance in elegant compression stockings.
Find out more about the new fashion colours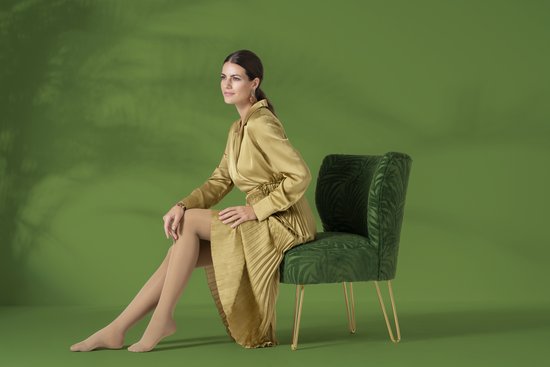 Elderberry

Blackthorn

Blood orange

Date
Sparkling and mysterious
Marzipan, Honey and Caramel are the lighter tones in our colour palette. Thanks to the slight sheen, the legs look shiny while maintaining an understated look. These natural colours are particularly suited to women with lighter skin tones.
The tasteful, warm tones Brittle, Nougat and Chocolate flatter the silhouette of the legs and create a natural look.
The intense colours Blueberry, Poppy and Liquorice can be combined with almost anything to create show-stopping outfits. With their mysterious darker tones, these colour options flatter the legs.
How about some Cream?
The pure white Cream tone won't just be the go-to piece on the most beautiful day of your life. Those suffering from allergies also count on Memory Aloe Vera in cream: as no additional dye is used in the production process, these white stockings are particularly suited for patients with sensitive skin.
The Memory Aloe Vera colours:
Cream

Marzipan

Honey

Caramel

Brittle

Nougat

Chocolate

Blueberry

Poppy

Liquorice
Dry skin jeopardises the therapy success
Vein problems often cause the skin to require more moisture. What's more, the compression stockings must have a tight fit in order to serve their medical purpose – this can also cause dry skin.
Unfortunately, more than two thirds of patients don't wear their compression stockings regularly. This was revealed in a survey by Prof. Dr. Markus Stücker which questioned patients at the vein centre of the Ruhr University Bochum. Reasons mentioned were dry skin and itchiness. However, compression garments can only support the veins and lower the risk of further complications, such as thrombosis, if they are worn on a daily basis.
We have the solution: compression stockings with integrated skincare
Memory Aloe Vera combines elegance with care. A combination of aloe vera extracts and vitamin E is integrated into the yarn and supplies the skin with constant natural moisture while the garment is worn. These nourishing ingredients are released gradually – even after more than 100 washes!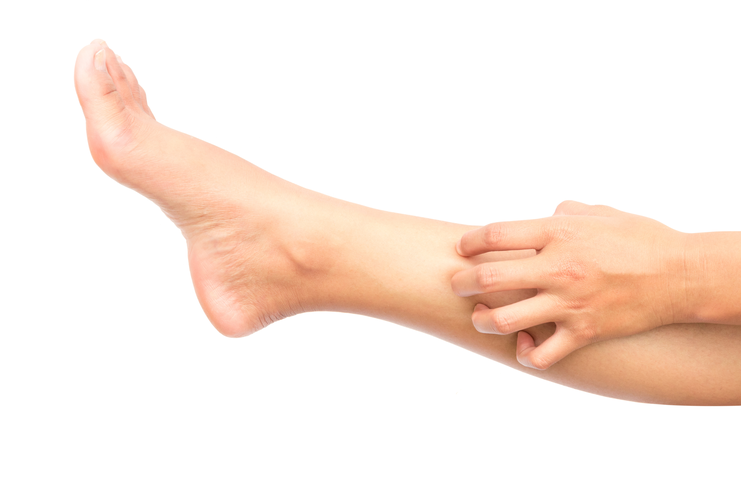 How Memory Aloe Vera's principle works
Memory Aloe Vera's skincare is integrated in the so-called microcapsules which contain aloe vera extracts and vitamin E. These ceramic-like capsules with their countless openings are so tiny that thousands of them would be needed to create the size of a pinhead. During the stocking production, these capsules are directly worked into the yarn. Check out our video 'Memory Aloe Vera' – it explains just how Memory Aloe Vera works!
Memory Aloe Vera's yarn construction
During the yarn's production, microcapsules are worked into the fibre. This ensures that the skin is hydrated with natural moisture while you're wearing the compression stockings. 
The power of the capsule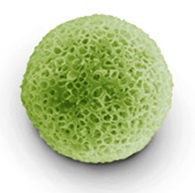 The ceramic-like microcapsules have numerous openings which release the active ingredients aloe vera and vitamin E. These nourish your skin while you're wearing the compression stockings.
Memory Aloe Vera highlights
microcapsules integrated into the yarn
moisturising thanks to aloe vera and vitamin E extracts
continuously protects, nourishes and soothes the skin
proven efficacy: skin is less dry and itchy
Aloe vera's efficacy proven by a study
Additional care within compression materials is a relatively new thing. So far, Memory Aloe Vera is the only stocking that integrates the nourishing substances right into the yarn. This allows for aloe vera extracts and vitamin E to be released while the stocking is worn. The resulting success has also been confirmed in a study by Wilhelm Kath and Guido Bruning. During the study, about 200 patients were examined after wearing compression stockings – either with or without additional aloe vera in the fabric.
The data of both groups was collected one week before a vein surgery. After the operation, both groups received medical compression stockings. One group was given Memory Aloe Vera while the other group was treated with compression stockings without any integrated care. After eight weeks, a second set of data was collected.
The study shows
Increase of skin hydration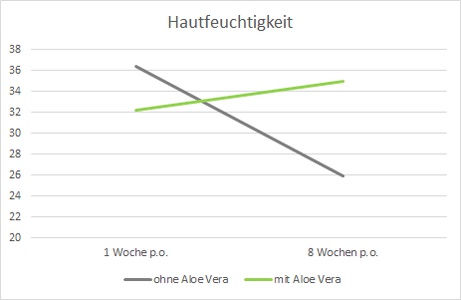 Increase of comfort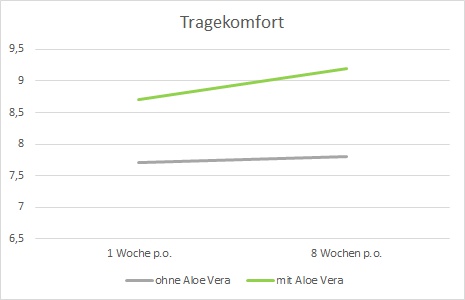 Skin improvement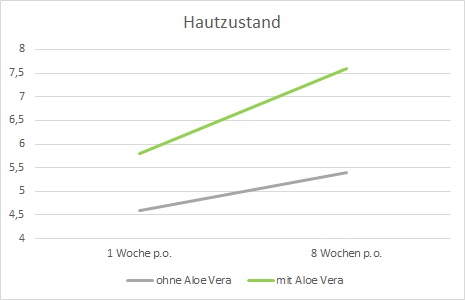 The study's outcome
In the aloe vera group, the itchiness was considerably lower than in the test group without additional skincare. This suggests that the decrease in itchiness increases the treatment adherence. This ensures optimal treatment, and the therapy success significantly increases.
Result: Memory Aloe Vera supplies the skin with nourishing extracts and thus reduces the itchiness and dryness.
What else you should know: No change in how you wash your stockings
By the way: the integrated skincare stays in the compression stocking for more than 100 washes. The skincare in Memory Aloe Vera stockings therefore do not have to be topped up, and the stockings can be washed at 40 degrees as per usual. What's more, Memory Aloe Vera – just like Memory – boasts various carefully thought-out details which make the designs a must-have for your legs. Discover our Memory variety today!
For almost every body shape
All our measurements for Memory Aloe Vera are the result of extensive research. Our sizing system has been created using statistics of real body measurements. This means: optimal fits and highly effective compression – for almost every body shape.
Ready-to-wear and made-to-measure
The sizing system for Memory Aloe Vera provides a large variety of ready-to-wear designs. Should the patient's measurements differ from the sizing system, however, our made-to-measure option will be the ideal solution.
With this customised option, the compression stockings will be fitted to your individual body measurements. This not only guarantees a perfect fit, but also supreme comfort.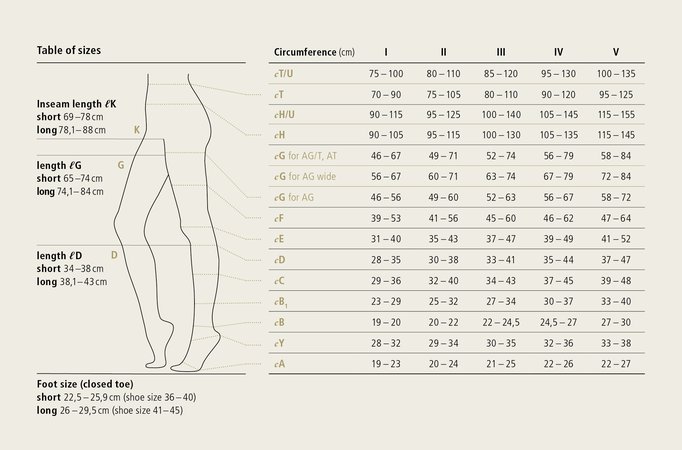 Benefits of the Memory sizing system
5 updated sizes
closed-toe options come in 2 foot lengths
2 leg lengths
gripper elastics come in 2 widths
panty part comes in 2 widths
Customised made-to-measure designs
customised fit
asymmetrical soft toe possible
individual customisation for every leg
different designs
free choice of gripper elastic
Knee stocking (AD)
The knee stocking ends just underneath the hollow of the knee. It reliably stays in place and is very soft. The fine rib knit texture of the elastic band creates a visual contrast to the rest of the knitted fabric.
Thigh stocking (AG)
The thigh stocking has an optimal fit and securely stay in place – even when the knee is bent. The slight transparency gives it a shiny finish. The knitted fabric adapts to the shape of the leg.
Tights (AT)
The tights offer a range of different body sections: The option with a slip panty part (AT/S) doesn't just boast an elegant textured look with smart details, but also a seamless transition from the leg to the waist section. The panty part (AT) with a wide waistband ensures comfortable wearing – without cutting into the skin or moving out of place. When a wider circumference is required (during pregnancy, for example), our tights with an extra-wide body section (AT/U) and an extremely stretchy knitted fabric are a perfect choice.
Toe design options
The open-toe design creates a smooth end to the compression. It gives the toes some freedom to move while still ensuring a secure fit. The material of the closed-toe design is soft yet resilient. This prevents the toes from being restricted in any way. The fine seam is hardly noticeable.
Maternity tights (AT/U)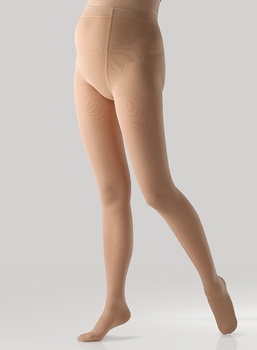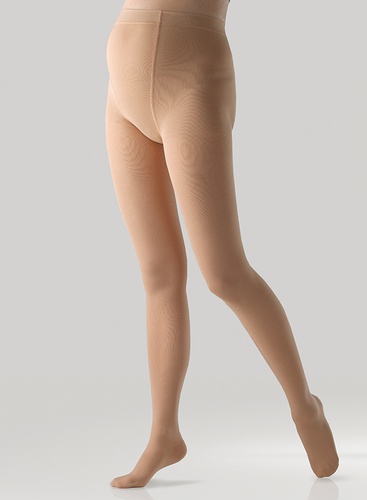 Tights with slip panty part (AT/S)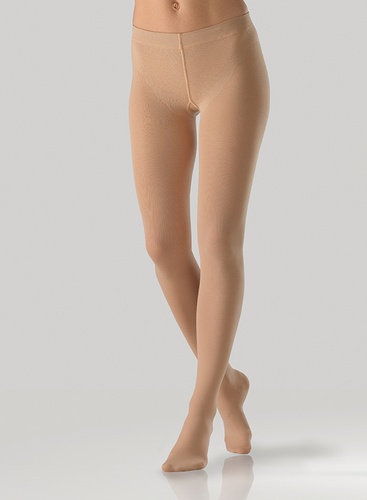 Tights (AT)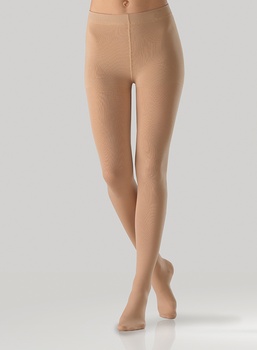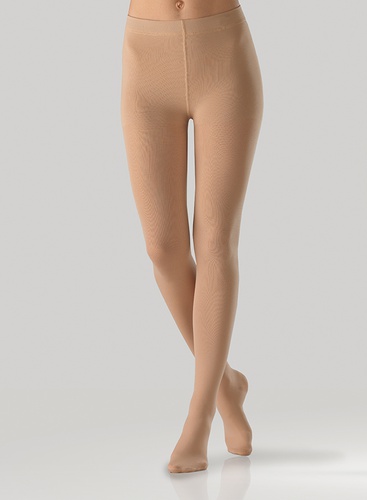 Thigh stocking (AG)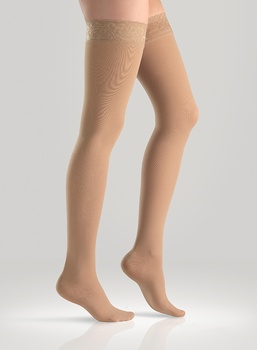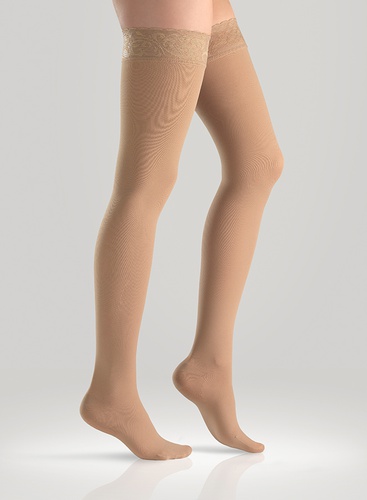 Knee stocking (AD)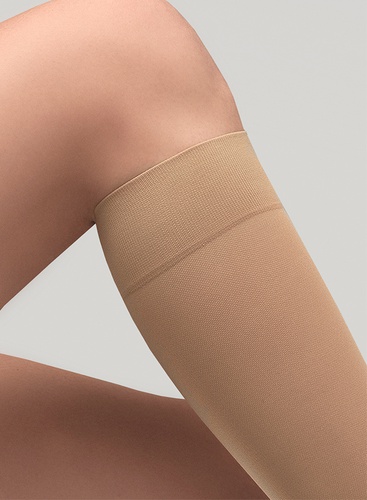 Knee stocking (AD)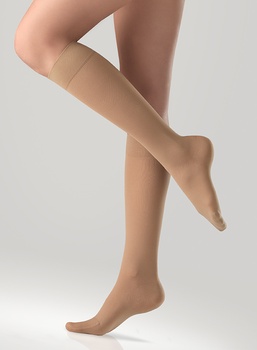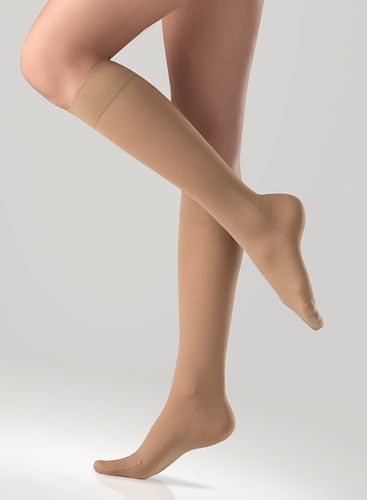 Closed toe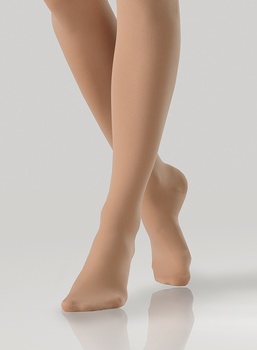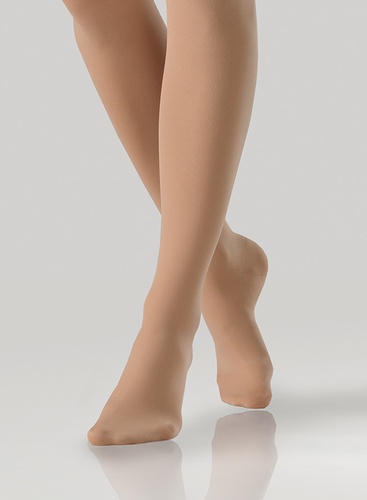 Open toe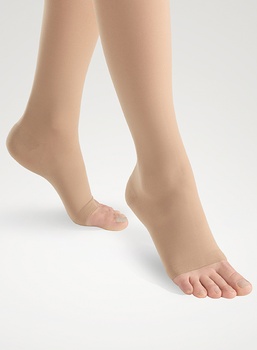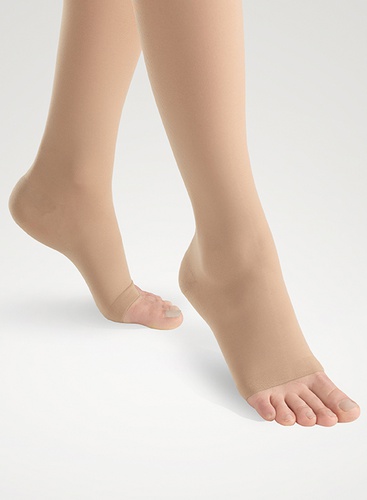 Grip tops for every preference
All grip tops have the same goal: the best grip and an elegant look. They have been designed using continuous innovations which offer both technical and visual benefits. These make the grip tops the perfect finishing touch to our compression stockings.
Lace grip top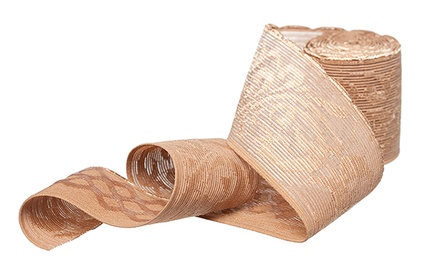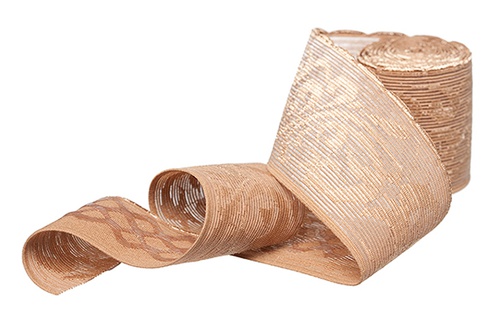 This soft and delicate lace grip top is extremely stretchy. The silicone has been applied in a honeycomb pattern and ensures a secure grip on the leg.
Silicone grip top Fleur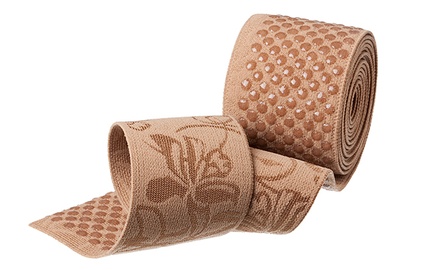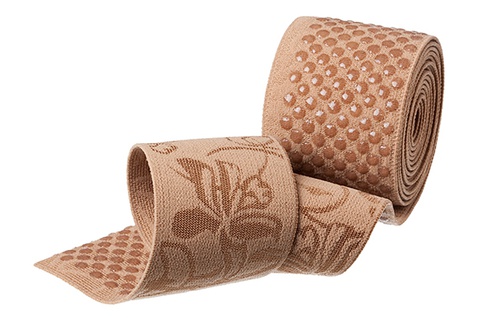 An elegant jacquard design for fashionable women with sensitive skin. The silicone has only been applied in individual dots to ensure optimal skin breathability.
Silicone grip top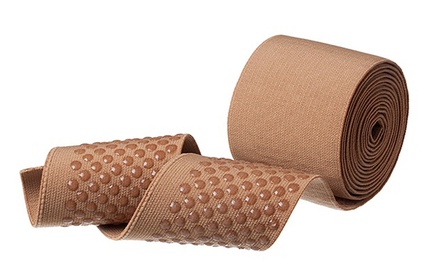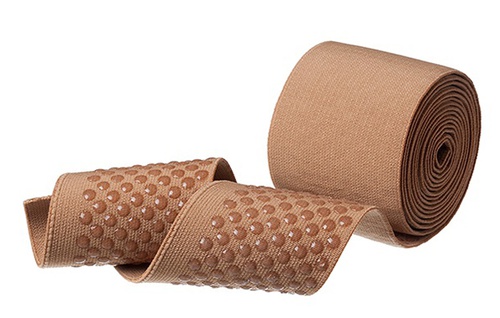 As the silicone hasn't been applied continuously, the skin can enjoy optimal breathability. A perfect choice for people with sensitive skin.
Rubber grip top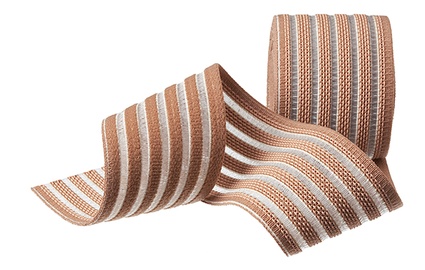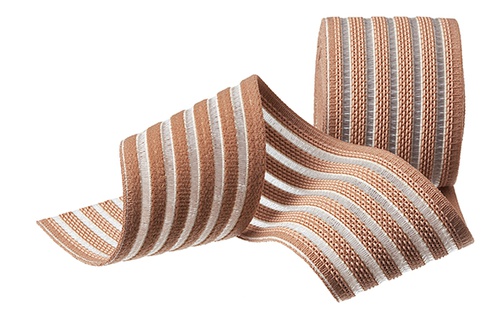 Particularly suitable for people who have an intolerance to silicone. It has only been applied in small dots and allows the skin to breathe.
Check out this video to find out how Memory Aloe Vera works and how it supplies the skin with nourishing extracts.
Compression: the basis for your treatment
Compression therapy is the foundation of every vein treatment and the basis for preventive measures. For a healthy leg, early support means relief, recovery and care.
In the case of a vein disorder, an enlarged vein, called a varicose vein, sometimes doesn't revert back to its original size. Permanent support via compression is then required. Even after a sclerotherapy or vein surgery, compression stockings will continue to be used to ensure the treatment is successful.
The pressure increases from the top downwards
Compression stockings apply a specifically defined mechanical pressure onto the enlarged venous vessels and the leg from the outside. They squeeze the veins together which narrows the veins' diameter and allows for the venous valves to close again. The blood in the veins can now flow better and faster.
Medical compression stockings guarantee precise pressure values as well as a medically prescribed decrease in pressure. The compression stocking's pressure is the strongest around the ankle and decreases upwards. This accelerates the venous return to the heart and the blood circulation in the leg noticeably improves.
Find out more about the medical background in our knowledge section 'Our body'.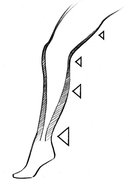 ---
This might also be interesting to you:
Putting your compression garments on with ease
Little everyday helpers make it easier to and tights. Handy accessories like special gloves and fitting aids help you glide into the stockings quickly and with ease – so that you're ready for the day in no time. That's why we've got plenty of practical helpers for you which will make it much easier to put your compression stockings on.
Because we care about your comfort!
The right care for your compression stockings
The product can be used immediately. We recommend washing it before the first use. After this, wash it inside out on a daily basis – either by hand or on the gentle cycle of your washing machine.
Wash the stockings separately using a mild detergent and no fabric softeners (you can use our special Ofa Clean detergent, for example). Wash at a maximum temperature of 40 degrees and rinse well.
A gentle spin cycle can be used for these stockings, but please do not wring them out.
Air-dry your compression stockings or put them in the tumble dryer using a gentle cycle. Please do not dry the stockings on the radiator or in direct sunlight. Do not iron the stockings.
To maintain the stockings' efficacy, please do not use any chemical detergents, bleach, petrol or fabric softeners on them.
Compression stockings are mostly resistant to grease and oil, but they shouldn't come into contact with ointments.
Stockings with silicone-coated gripper elastics should not come into contact with solvents, ointments, greasy body wash and body lotions. Otherwise, their adhesive properties may be permanently affected.
Store your stockings in a dry place and protected from sunlight and heat – ideally, in their original packaging.