What do you need to pack for your next long-distance flight? What's essential and what can be left behind? And what should you carry in your hand luggage? Let the Ofa travel checklist guide you!
Before the long-distance flight
Preparing for a flight begins long before the actual day of departure. It's always a good idea to create a checklist for important things that need to be organized, purchased, or obtained beforehand. Depending on your destination, you may have to take care of the following:
Apply for a visa
Make an appointment for vaccinations
Book accommodation and transfers
Check if your travel pharmacy/toiletry kits are complete
Take out travel insurance
Apply for an international driving license
Exchange money
Check validity of passports/ID cards
Get a power bank and travel adapter

During the flight
Thrombosis doesn't just affect older generations. It can affect young people too. That is why preventive support stockings are the perfect companions for long flights. Ofa Bamberg offers special revitalising stockings and sporty, elegant travel stockings which effectively prevent thrombosis and are comfortable to wear. But how do they work exactly?
Support stockings, such as Gilofa, exert slight pressure on the lower leg, creating a counter-pressure which reduces the size of the veins and transports the blood faster from the legs upward towards the heart. The feeling of heaviness, which often occurs when sitting or standing for long periods, will go away. This will stimulate the blood flow and ensure that any swelling of the legs disappears or does not occur at all (source: German Society of Angiology).
There are, however, other aids that can make your time on board much more pleasant. To ensure that your next long-distance journey will be a pleasant one, we have collected valuable tips from frequent flyers and compiled the five best ones for you.
Travel tip no. 1: Pack snacks & fruit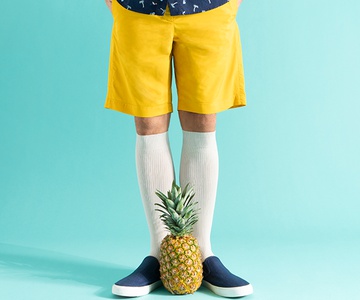 The quality of airline food you are served can vary wildly depending on which airline you fly with. Some airlines only offer snacks like chips, cake, nuts, or chocolate bars. That's why it's a good idea to take a few things with you.
Apples, pears or grapes
Nuts or trail mix
Granola bars
Sweets
Travel tip no. 2: Move around & wear compression stockings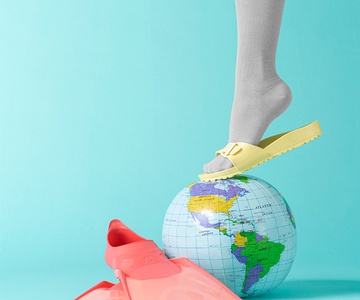 Everyone has experienced a cramped flight at some point in their lives where you hardly have any room for your legs, the person sitting next to you is occupying both armrests and your neck hurts because you try to sleep in a sitting position. These are the pitfalls of a long-distance flight. However, there are things you can do to make your flight a little more comfortable. Performing a few gymnastic exercises in your seat, getting up frequently, walking through the aisle and wearing compression or support stockings to improve circulation can help.
Stand up and walk around frequently
Do simple gymnastic exercises in your seat
Wear compression or support stockings
Use a neck support pillow
Travel tip no. 3: Drink plenty of fluids & apply lotion
Since the air in the aeroplane is particularly dry due to the air conditioning system, it is recommended that you drink plenty of fluids to avoid dehydration. You can moisten the mucous membranes with a nasal spray. Your skin will also lose moisture when you fly so regularly apply lotion. Additionally, if you drink a lot of water on long-distance flights, you will boost your immune system and won't be prone to catching a cold so easily.
Drink water
Avoid alcohol and caffeine
Use a nasal spray and eye drops
Think about lip care
Apply face and hand lotion
Use a thermal water spray
Carry a reusable drinking bottle
Travel tip no. 4: Hygiene, care & comfort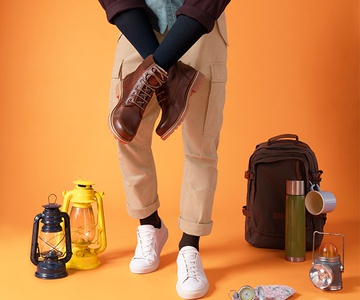 If you want to feel fresh after spending many hours on a plane, you should pack some wet wipes in your hand luggage. You can use them to refresh yourself quickly and easily. Germs and bacteria can be eliminated using a disinfectant spray. Oral hygiene is just as important as having a fresh t-shirt to change into. Additionally, you should carry an eye mask and earplugs in your hand luggage to aid rest and sleep. A list of key items to prioritise are listed below: 
Wet wipes
Tissues
Deodorant
Toothbrush/toothpaste
Disinfectant spray
Hairbrush
Fresh clothes  
Eye mask and earplugs
Travel tip no. 5: Comfortable and warm clothing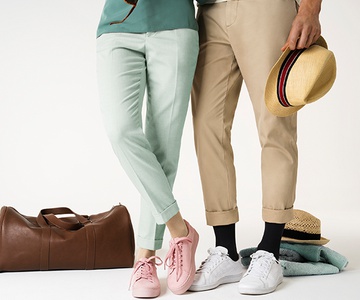 It's usually cold on a plane. The ventilation often leaves people feeling chilly or like there is a constant draft nearby. To avoid this, you should always pack an extra warm sweater, a scarf, and thick woollen socks. It goes without saying that you should wear comfortable clothes on a long-distance flight. High heels are an absolute no-go.
Flat shoes
Sweatpants or leggings
Warm sweater
Scarf
Extra pair of socks
Quick packing list for hand luggage 
We have already listed many things that you should pack in your hand luggage above. Here is our quick and compact checklist for you and your next holiday:
Documents & valuables
Passport/ID
International driving license
Documents for hotel, rental car etc.
Money
Credit card
Insurance details
Visa
Mobile phone
Hygiene & care
Medication (pills, nasal spray, eye drops, etc.)
Hand and face lotion
Wet wipes
Deodorant
Toothbrush/toothpaste
Clothing & comfort
Comfortable pants
Warm sweater
Scarf
Socks
Compression or support stockings
Eye mask
Earplugs
Neck pillow
Snacks & entertainment
Fruit
Granola bars
Chewing gum
Nuts
Reusable water bottle
Headphones
Charger cable/device
Books
Magazines