Lastofa Extra is available in compression classes 1 to 4 and offers the optimal solution for demanding support for every part of the body.
Every single flat-knitted compression support is manufactured according to individual measurements and needs. This ensures that Lastofa Extra offers an ideal fit through a wide range of different designs. In addition to the classic stocking supports, the Lastofa Extra range offers many different designs and special versions for various body segments. Even the most difficult areas of the body can be treated with custom-made solutions that provide an optimal fit.
We can produce different leg parts, stocking and trouser lengths as well as arm, finger and toe supports for a variety of needs and requirements.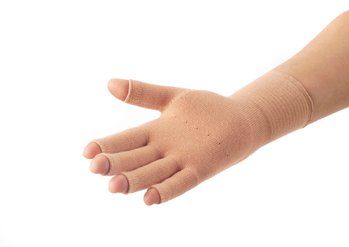 Leg supports
To ensure a high level of wearing comfort, we offer a choice of different foot tips – according to the customer's needs. Whether open or closed, Lastofa Extra always protects the toes. In the closed version, the toe area is not subjected to any compression pressure, which means that there is a large freedom of movement. The open toe cuff fits comfortably without cutting into the skin or rolling backwards.
If desired, individual parts of the leg can also be fitted with compression segments – whether it's socks, calf pieces or cuffs for the thigh. The individual leg pieces are also available as compression stockings.
By the way: For an easier way of putting on Lastofa Extra leg tights, we recommend a two-part support system consisting of a stocking and a trouser part, which are pulled over each other.
AD

AF

AG

AG/T

AT

AT/E

BT

CT

ET

FT
Arm supports
Arm supports are available with or without gloves as well as individual arm or elbow pieces.
For arm socks, Lastofa Extra also has a choice of different support options to keep the sock securely in place – with or without hand support.
By the way: For an easier way of putting on the Lastofa Extra arm socks, we recommend a two-part support consisting of arm sock and glove, which are pulled over each other.
CG

CH
Lastofa Extra toe and finger supports
For the wellbeing of your feet: Lastofa Extra can be manufactured with either an open or closed-toe cap. The products of Ofa Bamberg are handmade for special wearing comfort: as with the toe caps, the finger parts are attached by hand in sensitive areas. You can choose between open or closed fingers. Supports with individual finger or toe parts are also possible.
AA1 with toes

AC1 with fingers

AC1 with thumb base

AC1 without thumb
Ofa Bamberg has over 85 years experience in medical compression. Our extensive know-how enables us to offer many special knitting details for special wearing comfort. For example, the seam on the stocking is closed by hand so that it lies extra flat on the skin. At the same time, the knitted fabric of the stocking is extremely sturdy. Lastofa Extra thus combines high wearing comfort with medical effectiveness.
Longitudinal seam
Flat knitted stockings are made in one piece on a flat needle bed. For this reason, a longitudinal seam runs along the compression stocking, forming it into a stocking. Closed by hand, the seam lies flat on the skin and is hardly noticeable.
Knitted fabric
Sturdy and effective – the stitch pattern of flat-knitted compression stockings reflects its firm effectiveness. In this way, it can act like a stable wall against oedema. It is opaque and resistant.
Pendulum heel
Like a pendulum that swings back and forth, the pendulum heel is equipped with seams that move forwards and backwards and thus adapt ideally to the anatomy of the heel – for an optimal fit on the foot.
Slanted cuff
Thanks to a soft, chained cuff, the Lastofa Extra knee sock fits the leg perfectly. This allows for a targeted anatomical fit.
Longitudinal seam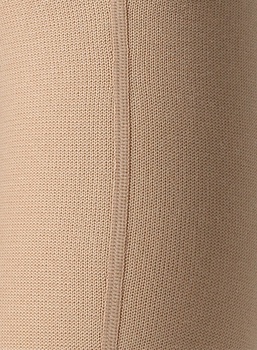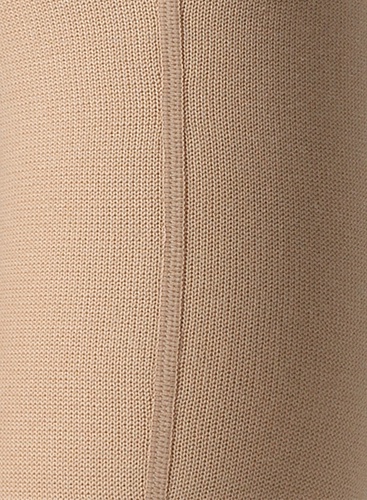 Knitted fabric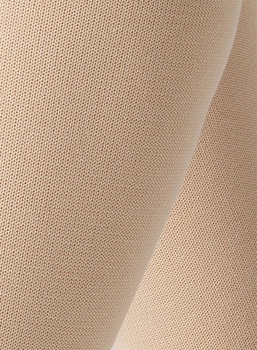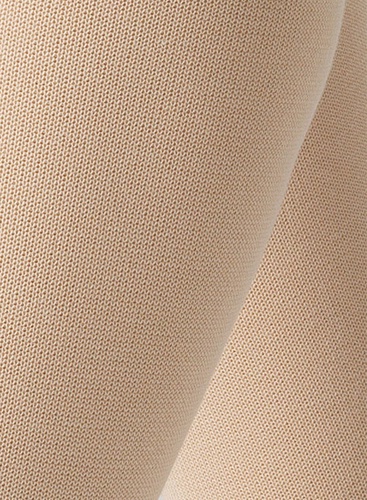 Pendulum heel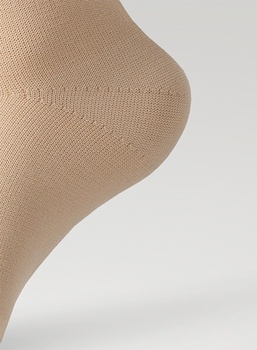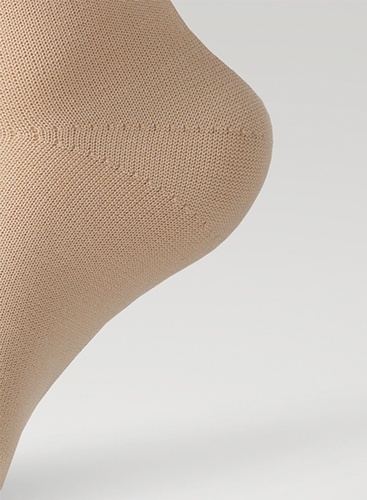 Slanted cuff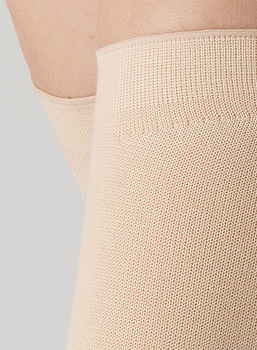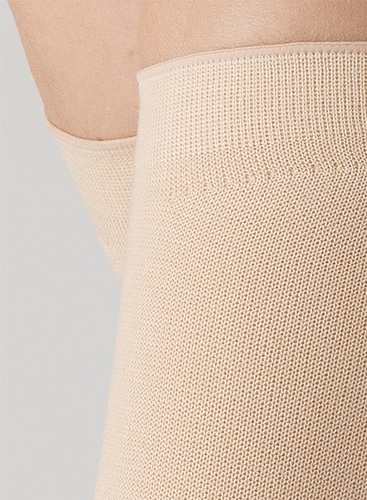 Adhesive tapes for every preference
Whether plain and unobtrusive or elegant in lace design: Lastofa adhesive tapes perfectly complement the stocking according to your individual taste.
Lace adhesive tape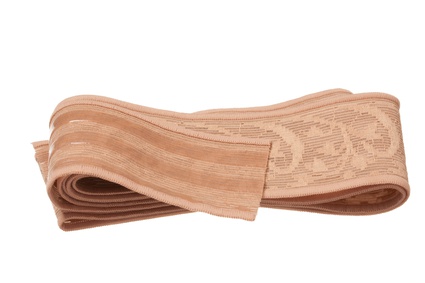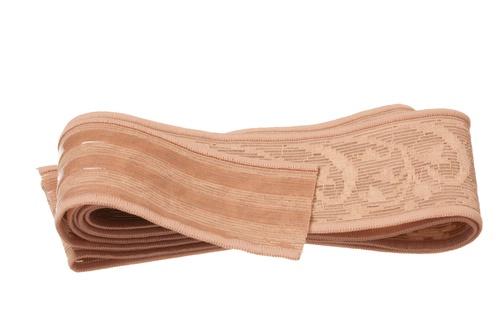 The semi-transparent lace adhesive tape is the first choice for all those looking for a stylish look and pleasant wearing comfort. However, thanks to cross reinforcement it is still robust. The silicone, applied in strips, provides a reliable hold on the leg and allows the skin to breathe.
Fleur nub adhesive tape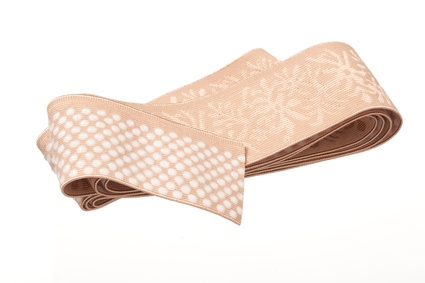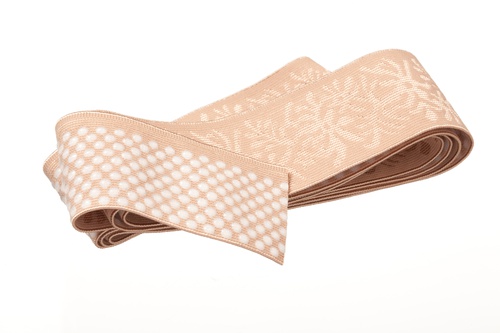 The adhesive tape impresses with its jacquard design and at the same time offers excellent air permeability – also suitable for sensitive skin. The flat knobs are hardly noticeable as the silicone is only applied selectively. The soft material also ensures a pleasant grip.
Nubbed adhesive tape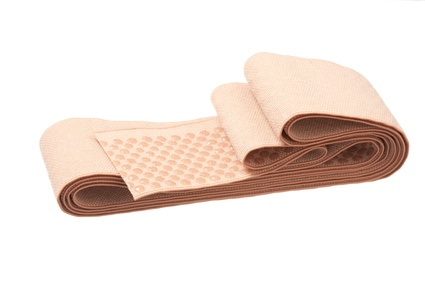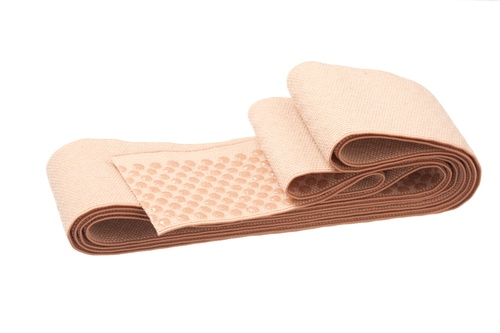 Because of its good air permeability, it is ideal for people with sensitive skin. The skin can breathe easily because the silicone is not applied continuously. The flat knobs hardly touch the skin. At the same time, the soft material ensures a pleasant grip.
Rubber adhesive tape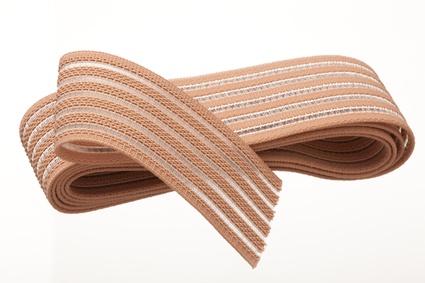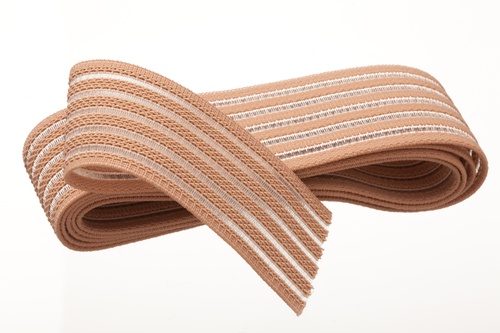 The rubber adhesive tape is particularly suitable for people who attach great importance to strong grip or have a silicone intolerance. It is only applied selectively and allows the skin to breathe sufficiently. Thanks to a special reinforced section, it cannot fold over.
With the choice of a skin tone and the classic black colour, you will surely find a suitable option for everyday life – discreet and pleasant.
skin

black
With prescribable add-ons, the flat-knitted support can be adapted to the individual requirements and needs of the patient. The therapeutic effect can thus be enhanced and the wearing comfort is increased.

Add-ons for optimal pressure distribution
Adhesive tapes and sewn-in adhesive band sections provide additional support and prevent the support from slipping.
Furthermore, various add-ons can be included to increase or distribute pressure, such as pads or lymph pads. When moving, nubs of different sizes massage the tissue directly under the lymph pad. Primarily used in edema therapy or for the treatment of scars, lymph pads can be attached anywhere in the stocking.
Lining materials that can be attached to the inside of the support reduce friction and stress on the joints in flexor areas such as the knee or ankle.
Special designs for a perfect anatomical fit
Just as our body dictates, a flat-knitted fitting can be equipped with a lateral elevation. This elevation allows the stocking to adapt ideally to the anatomical conditions, especially on the thigh or upper arm, and ensures the correct medical pressure curve.
To avoid wrinkles or constrictions, special inlets can be knitted into the elbows, knees or ankle joints. This simultaneously improves joint functionality.
For further information on special designs and accessories, please contact your Ofa specialist retailer.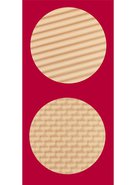 Lastofa Extra combines the highest medical effectiveness with a pleasant wearing comfort. The flat-knitted medical compression stockings offer the optimal solution for particularly demanding supports. The perfected knitting technique and the large range of individual designs can facilitate blood flow in every part of the body. Extra flat seams and a particularly high cotton content, which lies directly on the skin, guarantee an exceptionally comfortable wearing experience. The high, flat working pressure provides a stable wall that muscles can work against and thus better remove accumulated lymph fluid.
Lastofa Extra is produced on modern flat knitting machines. For the best results and optimal therapeutic success, we use state-of-the-art machines and sophisticated handcraft – naturally made in Germany. The result is a high-quality knitted fabric that combines a soft touch with high working pressure.
We pay great attention to the details to ensure a comfortable wearing experience. For example, fingers and toes are very delicate and sensitive. The seams in these areas require our special attention. The glove and the individual fingers are knitted by machine and then closed with one seam each. To avoid further seams, the fingers are attached to the glove by hand.
The individual stitches are joined together with needle and thread. The result is a finely crafted support without any additional seams – a big advantage for excellent wearing comfort.
Lastofa Extra at a glance:
flat-knitted custom-made support for edema, burn and scar patients
compression classes 1 to 4
skin-friendly thread structure with high cotton content
high, flat acting working pressure
no pressure points thanks to extra flat seams
optimal fit even under difficult anatomical conditions
available for the lower and upper extremities
exclusively custom-made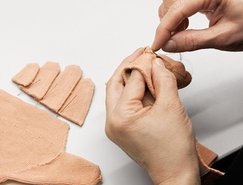 Easy to put on
Little helpers in everyday life ensure that putting on compression stockings and pants don't require a huge effort in the morning. Instead, they let you slip into your stockings and into the day quickly and easily.
That's why Ofa Bamberg has developed many practical tools to make your everyday life and handling your compression stockings easier.
Because your comfort is important to us!
How to use compression stockings correctly
The product is suitable for immediate use. Our recommendation: Wash before first use. Afterwards, wash daily by hand or turned inside out in the gentle cycle of your washing machine.
Wash the stockings separately with mild detergent without softener (e.g. ) at a maximum temperature of 40° C and rinse thoroughly.
You can use a gentle tumble dry cycle, but please do not wring the stockings out.
Dry your compression stockings by air or in the gentle cycle of your dryer, but do not place them on the radiator or in direct sunlight or iron them.
To maintain the effectiveness of the stockings, please do not use chemical detergents, bleach, petrol or fabric softeners.
Compression stockings are largely resistant to fats and oils, but should not come into contact with ointments.
Stockings with silicone-coated adhesive tapes should generally not come into contact with solvents, ointments, re-greasing washing lotions and body lotions. Otherwise their adhesive properties may be permanently impaired.
Store the stockings in a dry place, protected from sun and heat, preferably in their original packaging.