New Lastofa Forte colours
For more individuality in the treatment of edemas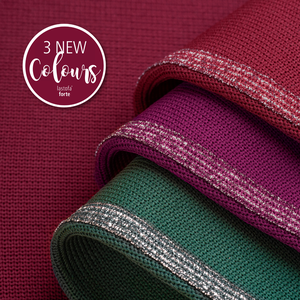 Lastofa Forte, the flat-knit medical compression made of merino wool, is getting some colourful additions. Not one, not two, but three whole new colours will be launched by Ofa Bamberg in October 2021.
Those who wear flat-knit compressions will probably have to do this for their entire lives. So it's all the more important to learn how to deal with the compression gear, to accept it and to implement it into everyday life. That's why not only the comfort matters, but also the range of colours. This was shown by a survey which Ofa Bamberg conducted with selected users of Lastofa Forte.
Ofa Bamberg listened to the request for more choice of colours and answered by creating three new colour hues. On top of the seven standard colours, Lastofa Forte users can now also choose compression garments in the colours Sunset, Forest Green and Berry. Sunset's intense shade of red stands for strength with an extra dose of courage. The new colour Forest Green has a lush shade of green which makes you think of a relaxing walk in the outdoors, and which will give your outfit a natural look. Berry, the third newbie, is a mix of pink and purple and symbolises femininity and self-confidence.
Just as with the other colours, you can also choose to have a decorative seam on these three new ones: Sunset, Forest Green and Berry can all be ordered with the optional silver seam.

Learn more