Ofa Foot Glider – make getting dressed easier
The Ofa Foot Glider is suitable for compression stockings with an open toe area. It's made of artificial silk and is ultralight as well as very thin. This means that you can take the Foot Glider anywhere.
Thanks to the open toe area, this aid can be easily removed via the toes once the stocking has been put on. 
The foot glider can be washed by hand. We recommend using a mild detergent to clean it.
Key points:
suitable for open toe compression stockings
soft artificial silk that glides well
ideal for frequent wear while on the go
washable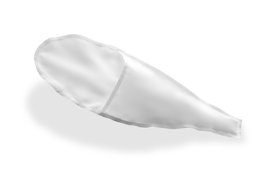 This page provides guidance on how to put on compression stockings more easily by using the Ofa Foot Glider:
Good to know...
Ask your medical practitioner to show you how to use this aid and try it out yourself before you make a purchase.
When purchasing compression stockings, a Foot Glider should be included automatically.
For additional support, the special gloves Ofa Grip will give you a secure grip and protect the knitted fabric of your compression stockings.
Please note that the compression stocking should not be pulled up by the seam but should instead be gently brushed upwards using your hands.
It's best to put on the compression stockings right after getting up as your legs won't be as swollen.
You should refrain from using lotions or cremes beforehand unless they're explicitly suited for compression stockings.
If you shower beforehand, please ensure that your skin is entirely dry before putting the aid on.
Further products for the maintenance and usage