Exclusively for women
Nobody will believe you are wearing highly effective support stockings but you will feel the effect. Gilofa Style accompanies you during a long evening at the theatre or the opera, while you dance at an all-night party.
Health can be so attractive
Gilofa Style prevents tires, heavy or even swollen legs and is designed to fit your individual leg measurements. The fine stockings look despite the strong support they provide surprisingly transparent. And available in 10 colours, which due to their fine sheen will make your legs turn heads.
Incidentally, Gilofa Style not only goes with elegant evening wear. Also, while wearing business or casual clothes you will cut a fine figure with Gilofa Style.
Say it with flowers: Gilofa Style Fashion Colours 2019
The Gilofa Style colour range sound not only tempting, they are also vivid on the leg. Our four additional fashion colours change yearly. In 2019, they are called Mallow, Lavender, Silver doller plant and Eucalyptus. We found the inspiration in nature, as our medical compression stockings have the same effect as their natural namesakes: they relieve, they stimulate and they protect us.
Gilofa Style with open toe
Gilofa Style also comes with an open toe version. It is available in the colours honey, caramel, blueberry and liquorice. This version is especially suitable for sandals, peep toe shoes and shoes with toe separators – especially then when women wish to wear open shoes.
The colours
Gilofa Style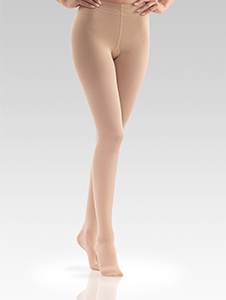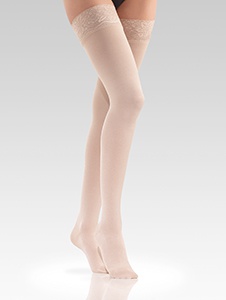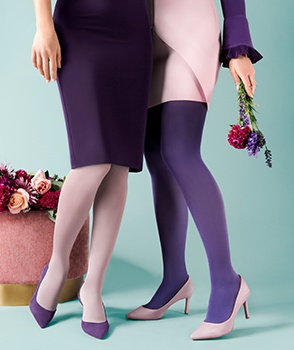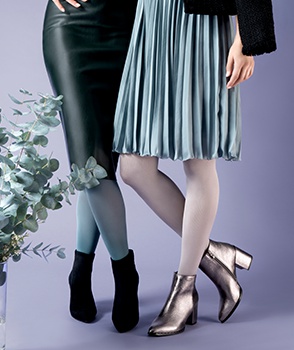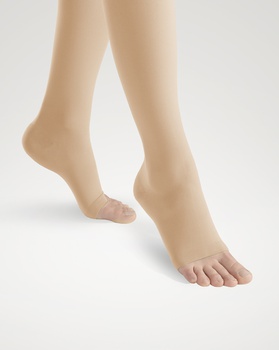 marzipan

honey*

caramel*

blueberry*

poppy seeds

liquorice*
*also available with an open toe
Gilofa Style fashion colours 2019
lavender

mallow

silver dollar plant

eukalyptus
The elegant support stockings
Ideal for all those whose work requires them to stand or sit for long periods of time or whose veins are subject to the exceptional strain of a pregnancy. This is why Gilofa support stockings are not only available as knee-highs and stay-ups with lace grip top but also as tights with an extra wide body part.
Gilofa Style is available with 280 den as knee-high stockings, thigh length stocking or as tights with a slip panty part.
A cloesd toe is standard, but an open toe can be chosen as well.
Cuff

Thigh length stockings

Tights

Slip panty part

Lace grip top

Open toe
Material composition
| | |
| --- | --- |
| Polyamide (microfibre) |  52 % |
| Elastane |  29 % |
| Polyamide |  19 % |
The right way to wash support stockings
The product is suitable for immediate use. Our recommendation: wash before wearing for the first time.
Wash every day (max. 30°C) and inside out.
With commercial mild detergent (particularly suitable for compression stockings is Ofa clean special detergent), don´t use fabric softener.
Rinse well, but don´t rub or wring.
Air dry on a towel or in a tumbler dryer (delicates programme), never iron or dry on a radiator.
Store in dry place, protect against direct sun.
Avoid stockings with silicone coated grip tops being in contact with solvents, creams and moisturising liquid soap, as the adhesiveness can be badly affected.
Maintain regular foot care and wear sensible footwear.
Pilling is normal with textiles and no grounds for complaint.
Never repair stockings yourself but return the damaged stocking to the specialist dealer the stocking was bought from.