Compression with a tattoo
This inspiring story is about Sina, who had always wanted to get a tattoo until her lipedema diagnosis put a spanner in the works. Now, Sina has found a way to personalise her compression tights.
You've finally decided to get that ankle tattoo that you've been wanting to get for so long. You bear the pain, love the result and can't wait to show everyone. Maybe you've even bought a matching pair of shoes to show it off. And suddenly you get the diagnosis: lipedema. You now have to wear compression garments – and your tattoo dream is over.
Alternative scenario: You want to become a lawyer, so you invest all your time into exhausting studies and successfully complete them. At the same time, you've always been longing to get a tattoo – but is that appropriate for a lawyer? Best not to risk it …
For both scenarios, I have a solution for wearing patterned tights or stockings which might not be a perfect solution, but certainly a pretty one: why not draw your own tattoo on the compression garments?
But hold on! To everyone who's thinking 'What? Drawing on compression tights?!": you shouldn't just start drawing on your new compression tights, of course – they don't come free, after all. But why not try this little experiment on some older, skin-coloured compression tights?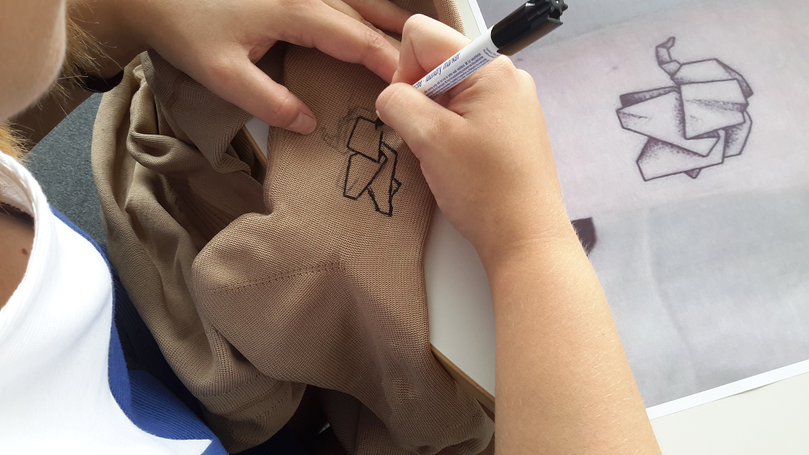 The motive:
Find a design you like on the internet or simply create your own. To begin with, it's probably best to go for linear motives. Including shading can be quite tricky, though you could achieve this by adding clusters of dots (see elephant). Just bear this in mind when you're trying your first design.
You'll need the following:
a motive or a stencil
one or several textile pens (maybe even in different colours) – I use one by Edding 
Compression tights (skin-coloured), f. ex. Lastofa Forte Foliage
a pencil or dark colouring pencil for the first sketch
possibly a mannequin part (leg, arm – for whatever you need)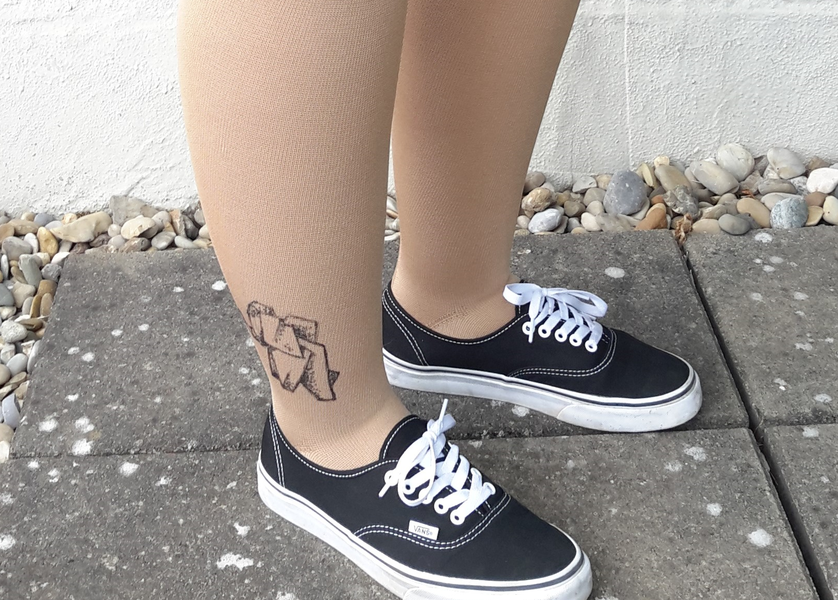 Instructions
First of all, put the compression garment on. Alternatively, you could also use a part of a mannequin for this which makes the drawing easier if you're doing it by yourself.
Now draw the motive onto the preferred area with a pencil (best to use a soft one) or get someone to help you with this. This initial sketch can be done completely by hand or by using a stencil. If you're using a stencil, put it on the right area and either have someone else hold it in place or fixate it with some sticky tape. Make sure the stencil is flexible and can be bent to fit the relevant area.
Once the sketch has been transferred to the fabric, take the compression garment off and carefully trace the lines with your textile pen. Don't make the lines too thin – otherwise they might have little gaps once you've put the garment on again. If you've opted to use a mannequin, you can draw the final version onto the fabric right away as the material is already stretched. If you're getting a friend to help, you can also do this step while wearing the garment.
Now you can put the compression garment on again. Have another look to see if certain areas need to be touched up – you could even get someone else to help you with this.
Finally, the area with the motive should be ironed so that the compression garment is washable again.
Voilà – done.
Tattoos on compression clothes – how to do it: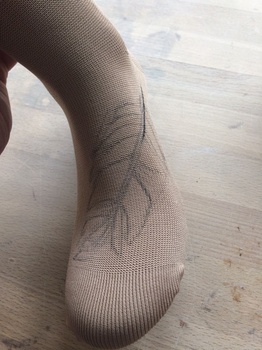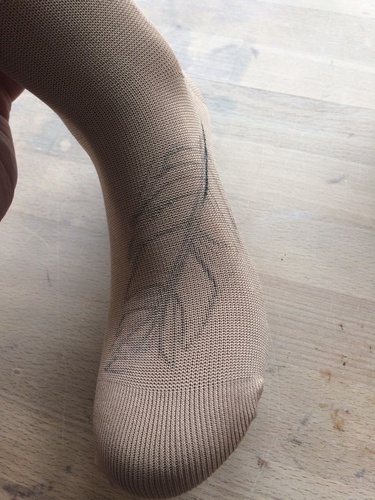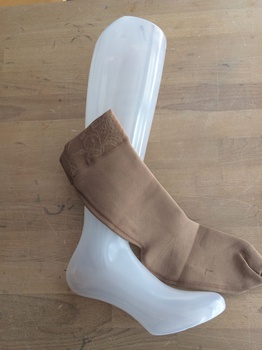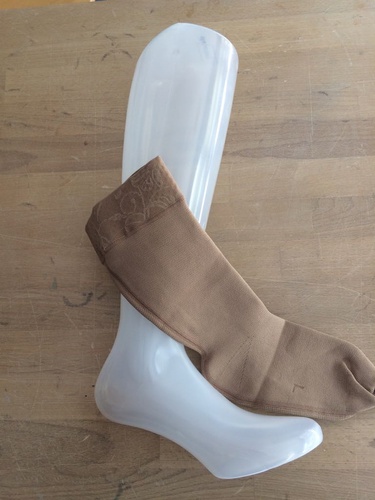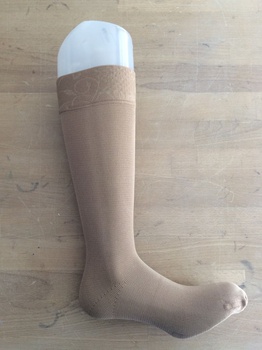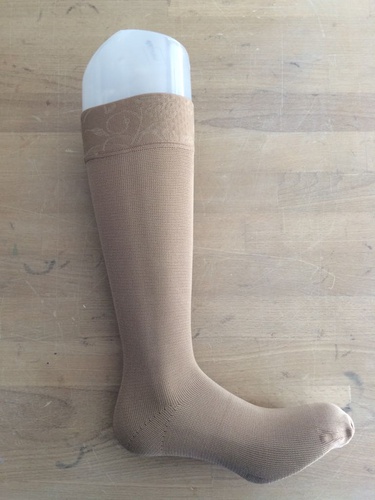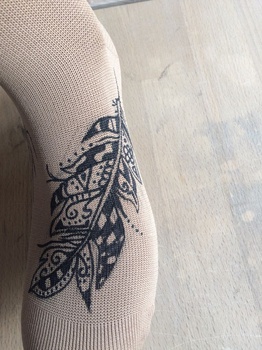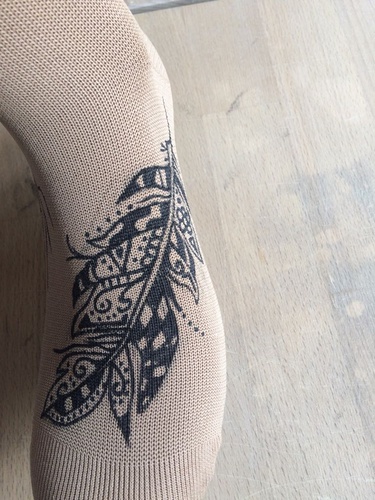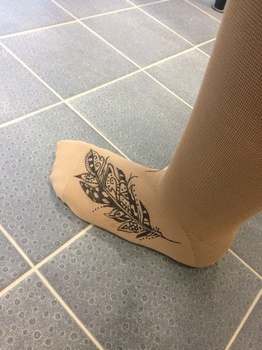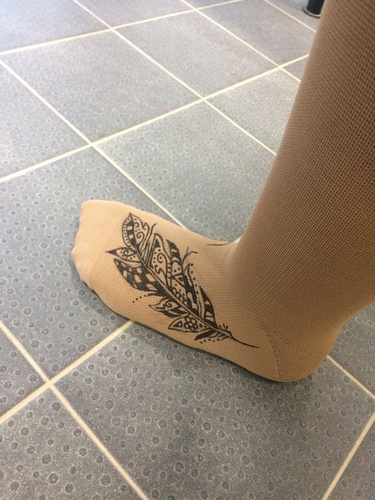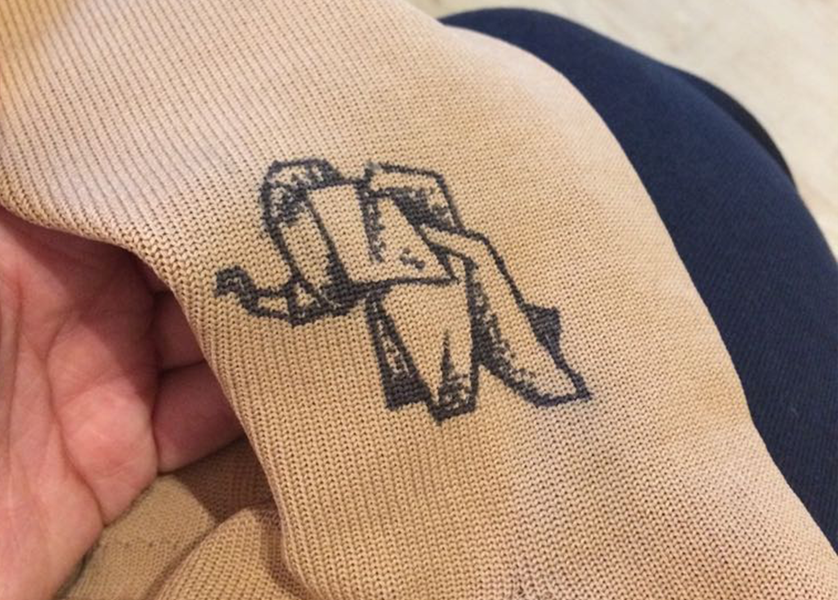 A tattoo that's (not) for life
You should only iron the relevant sections and not leave the iron on for too long, of course – otherwise the compression material will get damaged. And yet, the ironing will have the effect of protecting the drawing from being washed out when doing the laundry. Just like with a regular tattoo, the motive will fade over time. That's when you'll have to decide whether you want to go over the drawing again or not.
The best thing about this kind of tattoo is that you can decide on a new design practically every half a year. Every time you get a new compression garment, you also get a new canvas for your creativity on which you can explore your new ideas. Next time I get compression tights, I will go for blue ones and try white textile pens with them.
Give it a try and have fun!
Your Sina
---
This could also be of interest:
A burst of courage: become a #LipödemMutmacher!
This is where courageous women have their say about overcoming lipedema challenges day after day.