Discover the Memory fashion colours 2019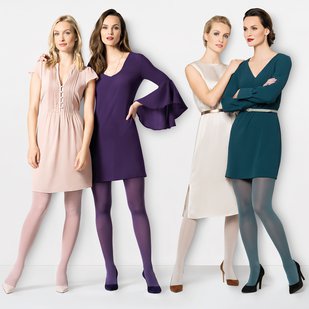 With our Memory fashion colours 2019, we are expanding our stylish colour range by four brilliant shades: Mallow, Lavender, Silver dollar plant and Eucalyptus.
We found the inspiration in nature, as our medical compression stockings have the same effect as their natural namesakes: they relieve, they stimulate and they protect us. Not only their healing effect is convincing – also their look is unique and elegant.
Mallow
Inspired by nature, mallow creates a romantic mood in the wardrobe. The feminine shade of pink lends any outfit a fanciful, yet elegant touch while at the same time radiating lightness and cheerfulness. Tone on tone combinations, pleated skirts of all lengths or tops with rhinestones and glitter make the colour glow vibrantly.
Lavender
Not only as fragrance, soap or candle does lavender leave an enduring impression – but it is also the colour of choice for a compression stocking embodying sensuality, strength and femininity. The light purple shade has a particularly charming effect in combination with petrol blue or dark purple. Embroidered clothes or floral patterns, in particular, show off lavender to full elegant advantage.
Eucalyptus
As many and various as the eucalyptus is, as many and various are the garments that can be worn in this colour. Eucalyptus radiates together with bright clothes a zest for life. However, combining muted colours with this shade of dark green creates a look of timeless elegance. Accessories in the eucalyptus colour define a perfect style.
Silver dollar plant
This bright shade of colour is a real combination wonder! Whether with classic white, grey or black or together with strong colours, such as infrared, ochre or luminescent yellow – silver dollar always cuts a fine figure. Suitable fabrics are fine materials, such as silk for summer or cashmere for winter.