'Men generally show more sympathy'
In the following, Maren will share how she dealt with her lipedema disease during her studies.
Maren got her diagnosis just before starting her degree. She had decided upon a very male-dominated field of study. In her story of encouragement, the 24-year-old from Swabia talks about how her male fellow students dealt with the illness that predominantly affects women and how they reacted to Maren's compression clothes
Maren has always been interested in all things technical – while her classmates loved to play with dolls, Maren preferred to build birdhouses. In secondary school, Maren chose the subject 'electricity' rather than 'home economics', the subject recommended to girls. For Maren, it was therefore very clear that she would also follow this path into her professional life – and seven internships during the summer holidays only reinforced this plan. After her secondary education, Maren started training to become a mechatronics engineer and her interest in the field continued to grow. During her vocational training, she also completed her Abitur at a night school. This was an intense and stressful time which didn't fail to leave its marks on her – slowly, Maren started to notice her body changing. Looking back at the time during her training, she says: 'My work clothes started feeling tighter and my proportions had begun to change. I was putting on more and more weight.'
Back then, she didn't know the reason for these changes. It was her boyfriend who became aware of the lipedema disease through a TV programme and called her to say: 'Look, that woman looks like you!'. Following this, a visit to the doctor answered all the questions – Maren had stage 2 lipedema in her arms and legs. The treatment that her doctor prescribed were customised round-knit compression tights, nothing else. Apart from the frustration over the high costs she had to pay herself, Maren also didn't cope well with the treatment. The compression material cut into her skin, caused uncomfortable pressure points and got damaged way too quickly because of the robust work clothes. No surprise that the tights disappeared in the furthest corner of Maren's wardrobe.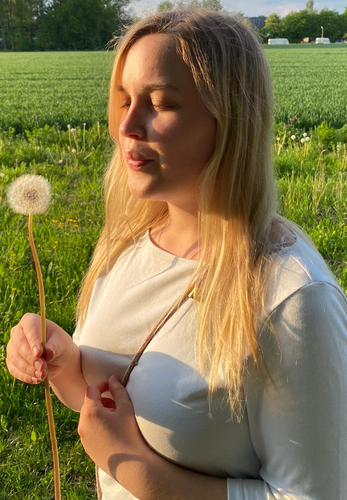 'Especially the men found it cool that I turned up to a male-dominated job in a dress.'
Finding the right compression
About two years later, Maren's mum started a new attempt – she made an appointment for Maren at a specialist doctor in Cologne, booked train tickets and a hotel and went to see him with her daughter. While this specialist confirmed the previous doctor's diagnosis, the treatment was now different: flat-knit compression for arms and legs. Maren now began her degree with the appropriate compression supply. Due to the feeling of shame, however, the student hid her compression under thick jeans and long sleeves. Apart from the demoralising feelings, other drawbacks added up: Maren couldn't hold her pen for long which meant she took longer during written exams and ran out of time. Hotter weather also meant that in rooms full of people and without any air conditioning, Maren was sweating profusely. The constant changing of rooms as well as the frequent sitting down and getting up also caused the hollows of her knee to chafe and her feet to go numb.
The most uncomfortable thing was the pain in her stomach, though, as both the compression tights and her jeans were cutting into her stomach while sitting. During toilet breaks, a fellow student would then help her get out of the compression tights. Although her doctor advised her to only wear the compression for a few hours a day and slowly increase this amount, this suggestion didn't quite satisfy her. A different solution was needed, so Maren started what she describes as her 'journey to more self-confidence'. Part of this journey were dresses and skirts. So far, she had exclusively been wearing trousers – partially due to the nature of her work. Not a single dress was hanging in her wardrobe.

Together with her boyfriend, she went shopping – and with every new piece that she put on, her self-confidence grew. On this day, Maren bought a knee-length dress with black and white stripes which matched her red compression tights perfectly. 'I had initially decided on a red pair because I thought that no one would end up seeing them, anyway. Back then, I didn't know that I was going to change my clothing style.' The compliments she received made her even more optimistic – particularly her 'pretty hourglass figure' was often complimented. About the first appearances with her new confidence at uni, she reflects: 'Especially the men found it cool that I turned up to a male-dominated job in a dress'. And that's how the positive response encouraged her to combine her compression tights with more and more dresses and skirts.
This is THAT dress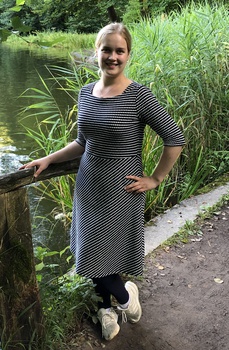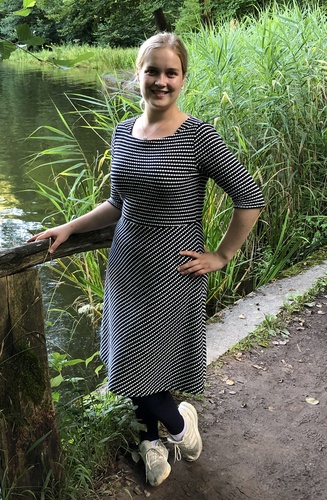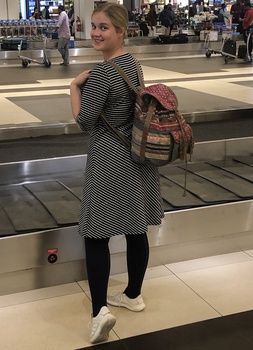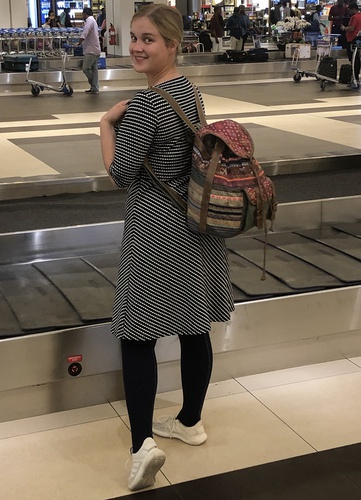 'Everyone I tell about my medical compression stockings thinks I have a vein disorder. Nobody expects lipedema because hardly anyone knows about this illness.'
Nowadays, however, Maren prefers to choose more muted colours. 'They're easier to combine with the colourful and patterned dresses', she says. When she wants to go for something a little more 'exciting', she opts for decorative details – a glittery seam, for example. From her fellow students, she only experiences positive reactions and no fear of contact whatsoever: 'My fellow students know that I have lipedema and they support me as best they can. My overall experience was that men generally show more sympathy than women. Maybe that's because they're not that aware of the disease's repercussions and because they don't pay that much attention to the subjects of clothes/fashion.'
It could also be because Maren studies in a familial atmosphere. Due to her field of study, the group of students is quite small – everyone knows one another. Still, she wishes for the prejudice against compression stockings to lessen overall. 'Everyone I tell about my medical compression stockings thinks I have a vein disorder. Nobody expects lipedema because hardly anyone knows about this illness.'
Maren is a #LipödemMutmacher
Today, Maren uses her Instagram account @mar_lip_osa to share her everyday experiences of her life with lipedema and compressions and to raise awareness about the illness. In her posts, she not only discusses different compression designs and materials but also provides helpful additional information about the subjects of fashion, exercise and nutrition. Maren doesn't shy away from anything, uses different media and enjoys trying out various Instagram functions. She also regularly uses the hashtag #LipödemMutmacher – an Ofa Bamberg initiative for women with lipedema.