Memory receives a red dot design award 2012
Compression stockings are old fashioned? No way!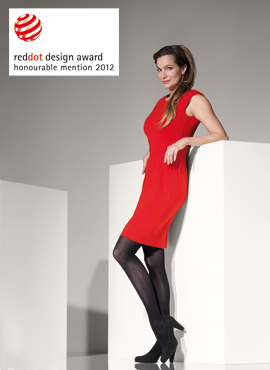 Memory has proven that medical efficacy and beautiful appearance are a perfect match. For their modern design and the sophisticated attention to detail the elegant compression stockings were awarded the red dot design award 2012.
The red dot design award is one of the world´s most renowned design prizes and enjoys great respect among experts and consumers. This year 1,800 designers and manufacturers entered the competition with in total 4,515 products to win the coveted trophies. The jury, made up of thirty top-notch designers, judged besides stylistic elements also the feel and funcionality. The official ceremony for the red dot design awards will take place in Essen on 2nd July, when inter alia acclaimed cars, computers and jewelry will be on show.
Memory scored in several categories at the award ceremony. Not only the elgant look of the compression stockings also the stylish image of all the advertising material could convince. The decoration, brochures and sales materials are incorporated into this design line.