New: Gilofa Style with open toe
Why the new version does not only make sense in open shoes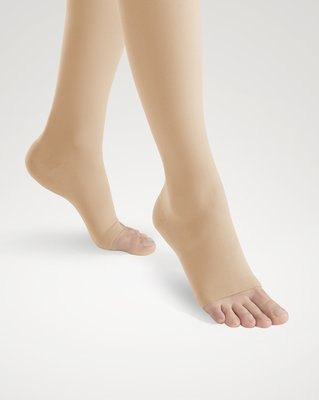 Gilofa Style is one of the popular support and travel stockings from Ofa Bamberg. To date there was only the classic design with closed toe on the market. But as of now an open toe version is available.
Elegant support stockings based on personal measurements: Gilofa Style not only stands out on account of its perfect fit. Also the attractive sheen and pleasant material make Gilofa Style a stylish companion. Now the coveted stocking with open toe is available in the colours honey, caramel, blueberry and liquorice. This version is especially suitable for sandals, peep toe shoes and shoes with toe separators – especially then when women wish to wear open shoes.
But the open toe can also be a bonus in closed shoes: it allows the toes maximum freedom of movement. Especially in the case of foot and toe problems the new design is a much appreciated alternative. It is a close fitting stocking that sits snugly and does not roll back in spite of the foot's movement.
Due to the strong compression support within the compression 1 range the legs remain pleasantly light with Gilofa Style – also during long periods of standing or sitting. Gilofa Style is available as knee-highs with extra wide trim, as stay-ups with lace grip top and as tights with slip body section or as an extra wide maternity version. In addition, Gilofa Style comes in nine standard and in four annually changing fashionable colours.