Say goodbye to cold feet
Why cold feet are not just a topic in autumn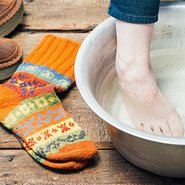 Men too can be affected by those typical "female" problems: cold feet. It has been repeatedly suggested that compression stockings are the cause for this phenomenon. However, "cold feet" can in most cases be attributed to bad blood circulation in the feet or legs. Such circulatory disorder can have different reasons.
Disease: Insufficient blood circulation is often caused by constricted blood vessels. Overweight, smoking, diabetes or lack of movement are considered risk factors for Peripheral Artery Occlusive Disease (PAOD). As a result, the legs affected are no longer supplied with blood. Should the legs cause pain, it is essential a physician is consulted.
External adverse effects: Blood circulation in the legs can be impaired by external factors, such as clothes being too tight. Close-fitting garments can cause disturbed blood flow, in rare cases even numbness. Also badly fitting support stockings or medical compression stockings can disturb blood circulation and lead to feet feeling cold. In this case a re-examination of whether the stockings have the correct fit is urgently required.
Medical compression too strong? With medical compression stockings also choosIng the correct compression class can be crucial. For persons who tend to suffer from cold feet, it might make sense to choose a lower compression class. In this case it is advisable to consult the treating physician.
Tips for warm feet: