The new website of Ofa Bamberg
Fewer clicks – faster access to your goal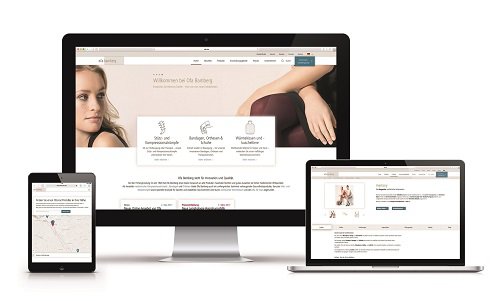 New design, leaner structure, interactive elements – the new Ofa website www.ofa-bamberg.com has much to offer.
One of the greatest changes: content is as of now displayed across the full width of the screen. Thus the new design allows for more space, eg for large-scale pictures. This lends the site a modern appearance.
Additionally the website has been optimized for all mobile devices – in this way you will also have faster access to your goal with your smartphone.
The most important improvements:
enhanced usability due to new design
leaner structure
clearly arranged main navigation
intelligent search
homepage with direct entry into the product world of Ofa Bamberg
more content, eg relating to our comprehensive orthopaedic support and orthosis range
dynamic visual elements, such as eg our Ofa Timeline
revised stocking finder to find a specific product more quickly
Ofa Bamberg has thus conceived and implemented a website in line with the latest Google requirements. As a result, everything at the company is now in place to respond even more quickly to digital changes. Together with its online shop the manufacturer of medical supplies and devices is perfectly positioned for the digital world.
Now discover the new website of Ofa Bamberg!
Please do not hesitate to contact us in case of questions.
Your Export Team
Phone: 0049 (0) 951 6047-777
Fax: 0049 (0) 951 6047-186
Email: export@ofa.de