Say it with flowers!
The new Memory fashion colours 2017 sound like a lovely bouquet of flowers.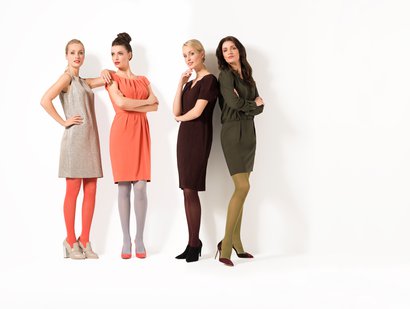 Blowball
The bright shade of grey radiates lightness when combined with a pink­coloured or white balloon dress but also goes superbly with clothes for everyday wear. Additionally, the early­summer colour is suited for strong contrasts. Incidentally: Blowball and pastel go hand in hand this spring.
Hibiscus
Inspired by one of the most luxurious flower varie­ties, you radiate with Hibiscus a vivacious personality and a zest for life. Make a fash­ion statement with a grey oversized­pull­over and trendy sneakers. Also a cream­coloured A­line dress and bright half­boots are the ideal complement to this vivid fashionable colour.
Dahlia
The dark shade of red conjures up a sense of mystique and is reminiscent of indulgence and seduction. Not only shade­ in­shade combinations but also grey, brown or dark green weave their magic perfectly round this warm­hearted colour shade. With leather shorts, knitted dress or velvet jacket in subdued colours you also provide attractive moments.
Ivy
Whether business outfit or casual look, Ivy lends your wardrobe a natural look. The fashion colour for autumn harmonises with warm colour shades, such as light brown or dark red. Ivy has a particularly elegant effect in combination with black pleated skirt or pine­green sheath dress. With a beige coloured trench coat Ivy is set to become the autumn combination of the year!