Morning sickness: Compression stockings can help
New study examines effectiveness during early pregnancy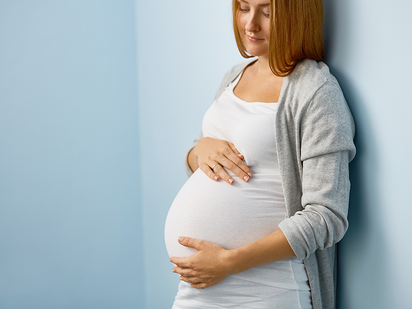 Compression stockings improve the venous return of blood. Thus they prevent the formation of varicose veins and edema. Particularly in the case of pregnant women their use for preventive reasons makes sense. However, it seems compression stockings can do even more.
Compression against nausea?
Nausea and vomiting (NVP=Nausea and Vomiting in Pregnancy) is for 50 to 80% of women a cause of distress in early pregnancy. A current study has examined the connection between these typical symptoms and the wearing of compression stockings.[1] Its findings are astonishing: knee-high compression stockings reduce nausea and vomiting. The symptoms improved by 31% in the case of women who wore compression stockings. In addition, they provided relief against dizziness and pain.
Baffling effect
Why compression stockings had a positive effect on nausea and vomiting as well as dizziness is impossible to say. For till now the question why these symptoms occur in pregnancy has not been answered. But what is known is that compression therapy reduces the blood reservoir in the deep leg veins and improves blood circulation. That this also has a positive effect on the psyche was shown in a study with people in jobs requiring prolonged standing.[2] Perhaps this explanation also applies to pregnant women.
Tips for a trouble-free time
How compression stockings can help during pregnancy is explained in the brochure "A carefree pregnancy" from Ofa Bamberg. It also contains numerous tips for a relaxing time as well as instructions for vein exercises.
[1] Mendoza E, Amsler F. Randomisierte, Cross-Over-Studie zur Wirkung von medizinischen Kompressionsstrümpfen auf Übelkeit und Erbrechen sowie Abgeschlagenheit in der Frühschwangerschaft. Vasomed. 2017; 29: 142-143
[2] Blazek C, Amsler F, Blaettler W, Keo HH, Baumgartner I, Willenberg T. Compression hosiery for occupational leg symptoms and leg volume: a randomized crossover trial in a cohort of hairdressers. Phlebology. 2013; 28: 239-247