The quality of our compression products has first priority. We see a high level of quality assurance as our foremost duty and guarantee to provide in accordance with the listed certifications safe and medically correct care:
The RAL-Quality Seal guarantees medical efficacy
Our medical compression stockings comply with internationally the strictest quality and testing regulations, RAL-GZ 387/1 (medical compression stockings) and RAL-GZ 387/2 (medical compression arm sleeves).
To retain the quality seal on a permanent basis we undergo regular external tests regarding product quality and medical requirements.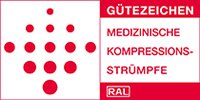 HOSY tests the stocking's medical pressure distribution
Since 1991 we have owned one of only eleven testing units for compression stockings existing worldwide – the HOSY (Hohenstein system). Guaranteeing a constant quality standard of our compression products has always been of prime importance to us and that's why we were the first German manufacturer to operate this system.
The latter tests the compression performance of stockings of any type or size with great accuracy and along the whole leg and is used in product development as well as quality control.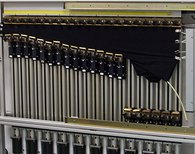 Öko-Tex Standard 100 guarantees skin friendly ingredients
Öko-Tex Standard 100 guarantees ingredients that contain no materials and dyes that are harmful to one's health. In 1995 Max medical stockings were the first medical compression stockings to be certified in accordance with Öko-Tex Standard 100. Today all our medical compression stockings carry this seal of approval.